Nestea brings new flavours to the table
To stay competitive in the increasingly crowded iced tea category, the brand is launching two new Canada-specific products.
With the weather getting warm again soon, Canadians are going to be looking for ways to quench their thirst, so Nestea is giving them more choice in the matter.
The ice tea brand has launched a pair of new flavours developed with the Canadian market in mind: Blueberry Mint Green Tea and Blackcurrant.
This summer, Nestea and agency Inventa will be driving trial of the new flavours by handing out 400,000 samples outdoors at events, festivals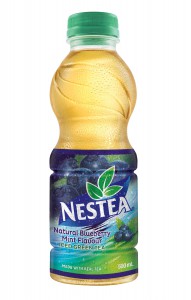 and on the street in major cities. Currently, the new flavours are being promoted with special, wood-bottom case stackers to help the product stand out in larger stores, with standard stackers being introduced into the small store channel, a first for Nestea. There is also a social push on Facebook and Instagram, handled by Gravity, and Nestea's standard point-of-sale material, handled by LPI, has been updated to reflect the new flavour offering. UM is handling the media buy.

Angela McIntosh, integrated marketing manager for Nestea at Coca-Cola, says their market research showed ice tea drinkers here were looking for a larger variety of choices for ready-to-drink tea. The company chose Blueberry Mint Green Tea and Blackcurrant, as they provide that variety while still maintaining recognizable, natural flavours that fit in with the rest of the Nestea portfolio.

Nestea last launched new flavours in Canada last summer, when three flavours were introduced along with the bigger, "king can" format, and McIntosh says the learnings from that have informed how the company has approached the launches for Blueberry Mint Green Tea and Blackcurrant.

The new flavours launched in 500 mL PET bottles, although the company will be bringing them to 12-packs of standard aluminum cans later this month, which has previously been a popular format for Nestea among families.

The ready-to-drink iced tea market is an increasingly competitive one in Canada, with retail sales having grown by 5% last year. Last May, PepsiCo launched its Pure Leaf Real Brewed line. Pure Leaf emphasized its natural ingredients, much like Nestea's new line does, but through distinct, premium-looking packaging that differentiated it from standard PET bottles used for soft drinks, as well as activations that were characterized as more high-brow "tastings" instead of "samplings."

The category has also seen stiff competition from newcomers like Arizona, with which Nestea aimed to compete with its king can launch that included a half tea, half lemonade flavour to counter Arizona's popular Arnold Palmer line.