Canada Dry Mott's new product love affair
Product innovation tends to fail. So why is the beverage co banking on new product launches? The simple answer: it's working.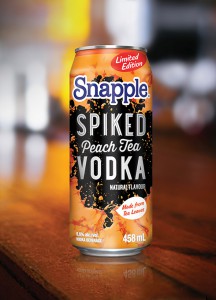 This story appears in the April issue of strategy.
Canada Dry Mott's (CDM) is trying to put the snap back in Snapple.
The brand, which is not one of the company's big sellers in Canada, is getting some new life breathed into it, debuting a new product in a new retail environment. Get ready to meet Vodka-infused Snapple, which hits shelves this month.
It's not the first trip down the liquor aisles for the CPG company (which is the Canadian subsidiary of Dr Pepper Snapple Group and also owns Canada Dry, Schweppes Ginger Ale and Mott's Clamato, among others). Clamato's ready-to-drink Caesars have been a mainstay in the cooler fridge since 2001, but after five years of consecutive growth, Carol-Anne Gower, VP marketing and business development at CDM, says it was time to see if lightening could strike twice.
Vodka and Snapple might seem like an odd combo, but Gower says based on consumer research, the team identified that drinkers were looking for more flavour variety than what was currently in the cooler market, so the peach iced tea (called Snapple Spiked Peach Tea Vodka) fit the bill.
What's more, despite Snapple's relatively low sales (compared to other CDM brands, but also compared to the U.S. where it enjoys strong sales), its name has high brand awareness. "It's got a disproportionate amount of equity to the number of cases we sell," Gower says with a laugh. Add to that the influx of "Remember the '90s" BuzzFeed-style posts floating around, on which Snapple always seems to appear, and it was a natural choice.
The new line will be promoted largely in LCBO stores in Ontario and liquor stores elsewhere in the country as well as online through social, with creative handled by DentsuBos. The creative was still being finalized at the time of publication, but the agency was asked to focus on the newness of the product in its messaging. It targets people in the 25-to-45 age range, with a sweet spot of 25 to 35, skewing slightly female.
This launch isn't designed to drive growth of Snapple overall, Gower says, but rather it's meant to give the brand incremental growth in a new market entirely. And if it can recreate the success of the Clamato line, Gower says CDM will definitely launch a third brand in liquor aisles (and has two more Snapple flavours in the wings).
The new Snapple line is just the tip of the iceberg, Gower says, noting CDM's growth strategy is banking on new product innovation, led largely out of the nine-person Canadian marketing department. CDM is taking an aggressive approach, she says, preparing to launch seven new lines this spring alone (with more expected in the fall).
But product innovation is notoriously difficult: some estimates put new product success at only 15% (Nielsen), while others suggest 25% (Simon-Kucher & Partners and the Professional Pricing Society). So why is CDM banking on this incremental growth strategy? Short answer: it's working. All of CDM's innovations from the last three years are still in market, contributing to the company's profit growth, and are considered a success.
Gower says the organization has more than doubled its output of product innovation over the last five years, with the hopes to continue to increase this output 10% year-over-year.
When it comes to the product innovation pipeline, Gower says the Canadian marketing team identifies the consumer insight or need, and then sends the asks down to the product R&D team in Texas, which works out the kinks in development and flavouring. The product is then tested and launched. She estimates roughly 50% of the ideas first funnelled through the pipeline make it to shelf.
This is an ambitious undertaking, especially for a team of nine, says Graham Candy, a cultural strategist with consultancy Fresh Squeezed Ideas. Candy, whose specialty is product innovation, says there are big risks when it comes to rolling out new offerings, namely those associated with spreading a brand too thin, meaning it's not always the most sustainable of strategies.
That being said, there are also big opportunities for brands (especially in Canada) to drive business through new product launches.
"Canadian consumers in particular are open-minded and willing to play around with new flavours, exotic packaging or [labels]," he says.
Gower says new product innovation was always part of CDM's marketing strategy, but it has only been within the last five years or so that the company really started to see growth opportunity in it.
She can't recall exactly which launch "flipped the switch" on the power of product innovation, but she points to early Mott's Fruitsations expansions as an indicator.
The brand undertook a deep-dive consumer research project into Fruitsations in 2013. It had been beat to market with a new package (pouched apple sauce) by its competitors, and consumers were feeling increasingly health conscious, resulting in stagnated growth.
The Mott's brand unveiled some deep-seated guilt from its target demo, moms, surrounding snack times. Moms, unsurprisingly, felt they often didn't have enough time to give their kids a healthy snack, and they worried about just how healthy packaged snacks actually were.
So Mott's raced to develop two new lines to assuage the guilt: +Veggies and Fruit Rockets (apple sauces in a pouch format).
And they were hits.
In a flat-to-declining category (the brand competes against the likes of Jell-O, pudding cups and other apple sauces) Mott's Fruitsations grew 4%. The two lines have been so successful, the brand put a TV buy behind the +Veggies line for the first time last year. This year, CDM has created a new spot for Rockets.
Launching early April and running until September, the latest campaign from DS+P features a family of four serenely arriving at a soccer game, with the parents musing on how great it is that they had so much time to prepare. Then the scene cuts to the same family rushing to make that soccer game, with the kids complaining that they're hungry and dad having nothing but a mint to offer. The spot concludes with the idea: Wouldn't it be great to have a portable snack like Fruitsations to offer them? It follows a spot, created last year by the brand's previous agency, U.S.-based Laird & Partners, that's along a similar vein, where a son begged his mom to give him vegetables (of course, this was just a fantasy). The entire campaign is built around the idea that the brand can solve mom's stress, and that Mott's has a snack for that. It targets parents with children under 12, with media handled by Mindshare and PR by Veritas.
Despite not being first to market with an apple-sauce pouch, the brand has claimed the top spot in the category. And with this latest mass campaign, Gower expects that share to grow (none of its competitors are putting media behind similar product lines, she explains).
Of course, product innovation gives brands an edge in their actual communication, Gower adds. Creative, she says, is much more likely to resonate with consumers when an ad tells them something they don't know – such as introducing them to a new flavour. The upcoming Mott's Clamato SKU is banking on this approach.
The Clamato backstory is that despite its popularity, Caesars were losing top-of-mind status among Canadians. Caesars were great for a barbecue, she says, but not everyone was thinking about stocking the bar for an evening cocktail party – despite the fact that consumers who like Caesars tend to love Caesars.
While the health of the brand was strong, she says actual consumption of Caesars (and by proxy, Clamato) was going down. One of the biggest findings from the research was that, more often than not, consumers just don't have all the necessary ingredients on hand.
To combat that, the brand started a mass campaign a year ago – complete with a recipe book available for sale across the country, showcasing the multitude of ways, and ingredients you can use, to make a Caesar – targeting men and women, ages 25 to 45.
But the culmination of this campaign is the latest brand offering – a new flavour option Gower hopes will introduce new drinkers to the Caesar club: Lime.

Since Bud Light Lime launched in 2008, the citrus fruit is making its way into plenty of products, from chips to pop. It was even named the top flavour of the year in 2013 by research firm Technomic.

It brings a lighter flavour to the Clamato line, Gower adds, something that will hopefully entice existing and new drinkers to give it a try. To promote the new flavour (the first one launched at grocery in eight years) the brand and DS+P are kicking off a mass campaign, which will be supported by digital, print and in-store marketing and sampling.

But why launch a lime product when the flavour is already at the height of its popularity? While Gower says as a company, it's out-innovating some competitors (especially in the clam-juice category, where the brand maintains more than a 90% share, and competes only against private label lines), it's a fine line between being ahead of a trend or being on trend (that is, guessing what they think will be hot versus taking a calculated risk based on what they know to be).

Candy concurs, adding one of the biggest risks in product innovation is that while consumers might say they're interested in trying a new product, they're often not willing to take a risk on a completely out-of-the-box offering – just look at Google Glass (which put a halt on public sales), McDonald's salads (consumers may have said they wanted healthy, but really they weren't going to the QSR for salads) or Axe's venture into the women's fragrance space (canned after a year).

As such, a number of CDM's product rollouts aren't ahead of the curve, but rather sit nicely in line with what's already popular.

Beyond the new Clamato Lime line, late last year, the company unveiled Schweppes Dark Ginger Ale, amid all sorts of other dark products on the market (albeit none in the ginger ale category), such as Tim Hortons' Dark Roast or the glut of new porter beers hitting the shelves. Over at Canada Dry Club Soda, it's jumping on the flavoured water trend, adding lemon and lime notes to its lineup (something consumers were doing on their own, says Gower).

"I think the challenge with getting ahead of the curve is that the cost to innovate is pretty expensive, and you have to walk a fine line of knowing exactly what the consumer trend is before consumers know themselves," Gower says.