Desjardins celebrates safe drivers
With the Ajusto app, the insurance co brings real-time feedback on safe driving to the masses.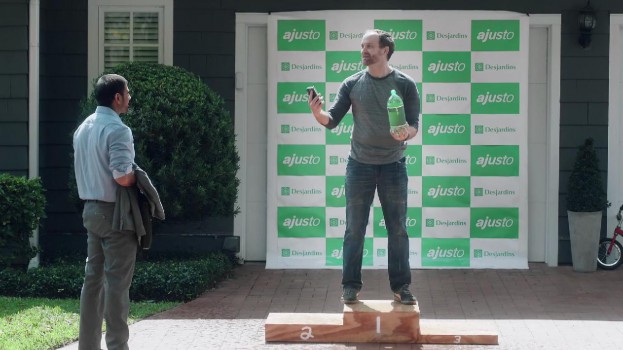 Desjardins has launched a new campaign to promote its Ajusto mobile app, a program that's aimed at making drivers safer and helping make auto insurance costs more manageable.

The new campaign, appearing on TV and in pre-roll, features an excited driver celebrating his insurance savings. Lg2 led creative, with Touché! handling the media buy.

Using technology already present in a user's smartphone, the app, developed by Cambridge Mobile Telemarketing in the U.S., measures things like how smoothly a driver brakes, accelerates and corners, the speed at which they drive, the times of day they drive and how long a typical trip is. That data is used to compile a score that determines how much of a discount the user receives on their insurance and gives them advice on how to improve their driving. As their driving improves, they can receive as much as 25% off their premium.

Ajusto will also be made available to State Farm customers in Ontario before the end of the year, and drivers that aren't Desjardins clients can try the app in a 90-day trial to see what kind of discount they would be eligible for.

The program was first introduced in 2013 and used a special device that was installed directly into a customer's car to measure how safe of a driver someone is. However, the technical limitations of the device, which wasn't compatible with the electrical systems of some car models, means the user base for the program ended up being limited. By bringing Ajusto to the mobile world, the program is now available to a wider audience. It also features a social element, allowing users to compare their score to other users and post it to social media, creating an extra level of engagement among existing users and encouraging others to sign up for a trial.

"By using an app, we increase the reach and availability of the program," says Denis Cote, VP of offer management and business lines support at Desjardins Group. "Of course, since it's mobile, it is a little bit skewed towards a younger market, but we want the app to be used by all demographics because there's benefit for anyone that's using it."

The data the app collects cannot be used in a claim, to increase a user's premiums or cancel a policy, and is positioned as a tool that will help drivers improve and be safer in the vehicles. "We get our own savings because if your driving is very good, you are less likely to have an accident," Cote says. "We save if we have less accidents, and we can turn that into discounts on your premium. That allows us to be more competitive and also improve road safety for everyone."

In a survey conducted one year after the launch of the original Ajusto program, two-thirds of respondents said they paid more attention to driving safety, particularly on things like how hard they accelerated or braked. Cote also points to U.K.-based insurance company Insure The Box, which saw a 35 to 40% reduction in accidents among young drivers that used their telematics program.