Shopper Innovation Awards: Fido offers the whole kit and caboodle
To compete against other telcos' prepaid offerings, Fido created unique packaging for the launch of the Fido All‐in-­one Prepaid Kit.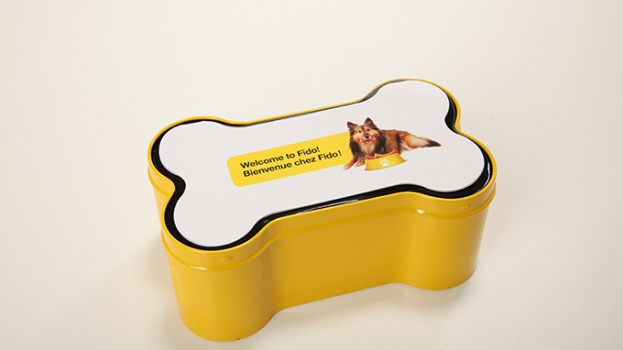 This story appears in the May 2015 issue of strategy.
 Gold: Packaging
Consumers have begun to choose prepaid phones and plans as a way to cut costs and free themselves from the fixed monthly rates that come with traditional mobile plans. Fido Prepaid services appeal to teens, college students, seniors and low-­income consumers. These consumers often need to buy a new cellphone and all the accessories that go with it.
To compete against other telecommunications companies' prepaid offerings, Fido enlisted DentsuBos to create unique packaging for the launch of the Fido All‐in-­one Prepaid Kit. The product provides everything customers need to get started – a smartphone, some accessories, an airtime voucher and more.
Just in time for back-to-school, the All-in-one Prepaid Kit launched across Fido stores in August 2014. Timing and budget were extremely tight and the brand needed an efficient way to bring the Prepaid Kit to life.
Prepaid phones are most often presented in a simple clamshell packaging. To stand out in a cluttered environment, the creative had to grab attention. The packaging was themed around "the kit that has it all" and the agency tapped into the brand's signature colour (yellow) and its dog biscuit icon for the shape of the reusable packaging.
To support the launch, the brand placed in-store POP and online banners on the Fido.ca landing page.
The Prepaid Kit was an instant hit. Within a month, 100% of the 5,000 units were sold. Based on the success of the first batch of units, an additional 5,000 were produced and sold nationally in late October 2014 in anticipation of the upcoming holiday season.
Credits:
Advertiser: Fido
Client: Guy Bourgeois, Caroline LeMay, Alain Simard
Agency: DentsuBos Montreal
Chief CD: Sebastien Rivest
CW: Amy Maloney
AD: Christine Girard
Account executive: Simon Essiambre
Account manager: Audrey Messier-Morissette