Shopper Marketing Forum: five takeaways from day two
Insights on how to target "Gen Edge" and Canada's growing immigrant population, from day two of the event.
In a competitive retail world, innovative shopper marketing still has the power to sway consumers toward your brand, and maybe even make them more loyal in the process. Strategy looks at some of the top ideas and trends coming out of day two of the Shopper Marketing Forum in Toronto. Don't forget to check out the key takeaways from day one of the event here.
#1 – Reaching "Generation Edge"
Generation Edge is today's teenagers, Caroline Fletcher (pictured right), VP and head of Toronto's The Sound Research, explained during her talk. They were born into a world on the brink of collapse and they need "edge" to survive. They're phenomenally different from the previous generation. They're realistic, resourceful, resilient and reformists. Because they're born into a highly competitive, dog-eat-dog world, they're good at finding alternative routes to get what they want, and they don't take the world as it stands.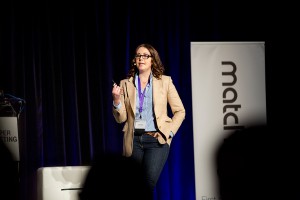 They will find ways to succeed, but that doesn't mean brands can't help them. Gen Edge aren't being coddled by their parents, so they have a much more mature take on what's coming down the road for them. All of this leads to the group's perception of brands and how they expect them to be proactive. In other words, make sure to put your money where your mouth is. Also, focus on quality. They're realistic about money and don't want any to go to waste, so they spend money on things that matter.
#2 –Think beyond ethnicity; consider life stage instead
In his presentation on multi-cultural marketing, Robin Brown, SVP of consumer insights at Environics Research Group, highlighted the notion of honing in on the immigration life stage. For instance, he referenced work done with RBC around identifying immigrants' top three challenges with financial institutions when arriving in Canada – they all pertained to credit. The financial co was able to create a program to target this unique need associated with the life stage, he explained. Marcom touted "Newcomers, building credit history is easy with Canada's largest bank." The description of RBC as the country's largest bank provided reassurance, he said, while the simplicity of the message addressed the life stage (the last thing someone needs at this time in their life is numerous brochures, for instance).
Moments that matter to these consumers, and touchpoints through which to reach them, are affected by both the immigration life stage and ethnic culture, he explained. Referencing a program from Huggies, he noted how motherhood is culturally significant for Chinese and South Asian communities. Tying back to the life stage, he noted how many immigrant mothers likely left their support system back home – which provides a rich basis for insights. And in the case of programs around cultural celebrations such as Chinese New Year and Diwali, the highest touchpoint for campaign awareness by the festivals' respective communities was in store (consider how consumers shop during those times).
#3 – Disrupt the path to purchase (wisely)
In a panel discussing stand-out shopper marketing from a global perspective, Kris Matheson, director of shopper and customer experience at Olson Canada, highlighted initiatives that rethink the traditional path to purchase.
Amazon Dash – a system where Amazon Prime customers can push a button situated near their laundry detergent, for instance, to reorder when they're running low – is essentially integrated into consumers' household supply management structure, he says. Similarly, a program between Under Armour and Zappos allowed consumers to track the miles they traverse in their shoes via a fitness app, which would alert them when they should order a new pair. It ties into the idea of supply chain management and replenishment, he said, and demonstrates how the linear path to purchase can be interrupted with ease.
Additionally, Matheson pointed to apps that eschew the traditional act of waiting in line. Adidas Confirmed, for example, allows users to reserve its "most anticipated sneaker releases," according to the brand, and be notified when they can pick them up.
#4 – Get consumers to their "mini range" of products sooner
Shopping is about deselection, Dr. Hugh Phillips, president of Phillips Foster & Boucher, told the audience. Consumers will deselect 95% of products, displays and communications that aren't relevant to them, and can handle a maximum of three product choices (their "mini range") at once. And how quickly you can get them to their mini range is tied to their basket size, according to research.
"Our researchers found that [with] customers, the amount of time they spend in store is relatively fixed," he said. "If you can get them to their mini range in less time, they continue browsing." One of its case studies with a drug store chain demonstrated how when it re-merchandised, on average, consumers got to their destination products four minutes faster, but continued to browse (their whole shopping trip was the same amount of time) and purchased more.
#5 – Brand first, product second
That's what Scott Adel (pictured right), head of omnichannel at Frank & Oak, reiterated several times during his keynote presentation. The online men's clothing retailer has experienced a rise in popularity over the last three years in part due to building an entire experience around its brand. "Creating an experience is an opportunity to create longevity in a space that's very competitive," Adel said. "We don't talk about omnichannel, it's about omni-experience."
At the retailer's outset, that meant using what it knew about its customers to create collections that would match their tastes, and to give them personal service, advising them on what products would best fit the kind of style they were trying to achieve. Adel said the other thing that has contributed to its experience-building is focusing on content. Instead of using mass, traditional means of marketing and risking a push-back from its young, creative-minded target, the company instead created and pushed its own content (from videos to music playlists) that ties into the themes of that month's new collection, not just the product. "We can have mobile, web and physical in sync seamlessly across all channels," he said. "Those unique offerings tied together create an experience in our brand, not just our stores."

Photos by Ryan Walker (www.ryanwalkerphoto.ca)