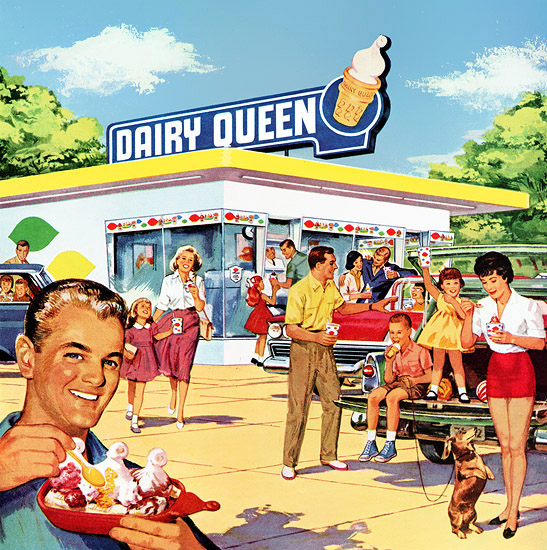 By Vawn Himmelsbach
It's been 75 years since Dairy Queen set up shop and brought soft-serve ice cream to the masses. From banana splits and the Dilly Bar to today's ever-popular Blizzard, the brand has been synonymous with frozen treats.
And this year, DQ (which officially changed its name to its initials in 2001) plans to keep the celebrations going all year long as part of its "fanniversary."
In Canada, it kicked off with Free Cone Day on March 16, the 75th day of the calendar year, where participating franchises (both DQ and DQ Grill & Chill) served up free small vanilla soft-serve cones.
Free Cone Day is just the beginning, says Candida Ness, senior director of marketing for Dairy Queen Canada. While other celebratory plans are still under wraps, DQ plans to extend the festivities year-round with food and
treat innovations.
It is just starting to roll out the DQ Bakes line in Canada. The menu includes oven-fresh sandwiches (such as Chicken Bacon Ranch and Turkey BLT); hot desserts (such as Apple Tart à la Mode and Triple Chocolate Brownie à la Mode); and snack melts, which feature grilled meat in a crisp tortilla (such as Buffalo Chicken and Bacon BBQ).
Ness says the brand has also launched its "best Blizzard menu ever," which involved taking a look through history to bring back fan favourites (such as the Confetti Cake Blizzard) while also considering contemporary food trends.
The year got rolling with the Birthday Cake Oreo Blizzard – a concoction of DQ soft serve, Oreo cookie pieces, confetti frosting and sprinkles – as the Blizzard of the Month in January. With retro and new flavours like Grasshopper Mousse Pie and Salted Caramel Truffle, the brand is trying to give customers a reason to keep coming back.
Also new for the brand will be a partnership with a major motion picture (still under wraps at press time) that will involve a fully integrated marketing campaign this summer. This is the first partnership of its kind in the brand's history.
While the anniversary is a chance to celebrate DQ's heritage, it's also an opportunity to look ahead, especially in a highly competitive and changing QSR market.
Quick-service restaurants are under pressure with the rise of fast casual, where customers order at the counter but have their meal cooked to order (like the Chipotle model). "That's where the market is going," says food service consultant and president of FHG International, Douglas Fisher.
Another pressure is increased competition in the ice-cream treat sector. "There's so many of them now," says Fisher. "That's taking a bite out of the soft-serve ice cream market, because it's not considered a premium product."
Back in the '90s, Dairy Queen, Häagen-Dazs and Ben & Jerry's ruled the market. In 1988, Cold Stone Creamery opened in the U.S., offering customers the ability to customize their order with candy, cakes and nuts.
Then frozen yogurt made its entrance with players like TCBY as part of the "healthy" dessert category – even if those desserts were topped with M&Ms. Frozen yogurt is back in vogue and experiencing a rise in popularity with "froyo" shops that offer customizable topping bars in trendy settings. Indeed, the number of froyo shops increased by 24% between 2011 and 2012, according to Technomic, while ice-cream outlets declined slightly.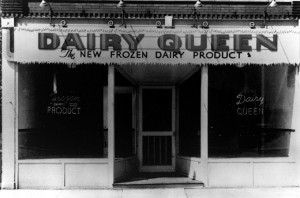 At the same time, McDonald's, Burger King, Wendy's and other fast-food joints have taken a slice of the ice-cream pie by offering soft-serve options, such as McDonald's McFlurry and Wendy's Frosty.
Adding to the mix, there's now a gelato shop on every corner, says Fisher. "That whole ice cream market is very soft, no pun intended," he says. "There are a lot of players."
Ness agrees there is increased competition in the treat market, which is a challenge. But what makes DQ unique, she says, is that "strong treat heritage."
That was the reasoning behind its "Fan Food not fast food" campaign, which launched in 2013. The campaign moved away from DQ's humorous, quirky approach (we all remember those talking lips and crazy characters) to one that capitalized on nostalgia and brand loyalty. Ads featured families enjoying DQ treats, with imagery of fresh ingredients. The objective was to reconnect with customers – and start bringing "light" customers (who only visit once a month) into restaurants more often.
"One of the things about the DQ brand is there's a real emotional connection," says Ness. "We feel that's a platform we've been able to build integrated marketing campaigns around."
While the numbers are not publicly available, Ness says the company experienced "great sales" over the past year, and the brand is happy with its new direction. "We feel it's connecting with consumers, and it speaks in a voice that is really straightforward and honest."
While the company is not number one in the market, she says it's holding its own. "When you look at some of the bigger QSRs, we don't have as much marketing muscle, so we have to be smarter and more pointed in how we go to market."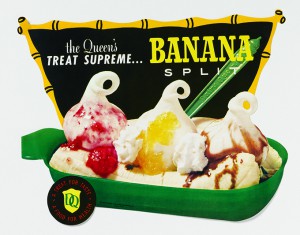 That means doing a lot in the social sphere. "The way everyone is approaching social now, it's not a hard sell, it's soft selling, such as Free Cone Day. We were rewarding our fans," she says, adding that DQ's social campaign around Free Cone Day went viral and got a much bigger response than expected.
According to Engagement Labs, of the top 10 QSRs in the U.S. based on social media performance, Dairy Queen came in at number three on Facebook and number seven on Twitter.
Ness says the company is trying to look ahead – not just one year out but further than that – to stay on top of industry trends, especially since the QSR industry is changing so rapidly.
"Customization is a huge trend now," she says. "We do offer customization through Blizzards to some extent…but you always want to deliver on speed of service."
She also acknowledges that Canadians are looking for healthier fast-food options.
Part of DQ's response to that includes the launch of the aforementioned DQ Bakes product line.
"The real challenge for us is there's a lot of nostalgia [around the brand]," says Ness. "How do we embrace our history, but be relevant and contemporary today?"
DQ over the years
Dairy Queen got its start in small-town America. John McCullough and his son Bradley invented the soft-serve ice cream formula, and family friend Sherb Noble opened the first Dairy Queen in Joliet, Ill., on June 22, 1940, selling cones, sundaes and take-home pints.
In post-war America, the brand took off, growing from 100 locations in 1947 to 2,600 by 1955 under a franchise system. Yet, during that time, Dairy Queen retained that small-town, mom-and-pop feel, and franchises often had different formats and even different menu items. But its ice cream treats remained consistent.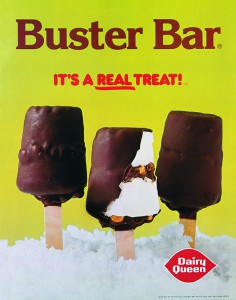 In 1949, Dairy Queen introduced malts and shakes, followed by the banana split in 1951 and the Dilly Bar in 1955. Dairy Queen Brazier products were introduced in 1958, featuring burgers, fries, chicken and hot dogs. In 1981, it introduced DQ Cakes, and in 1985, it rolled out what is arguably its biggest success to date: the Blizzard.
In 1998, Berkshire Hathaway – under investor Warren Buffett – bought the chain for US$585 million, which helped to boost the brand and attract new investors. DQ has since expanded to more than 25 countries.
When Buffett purchased Dairy Queen, the brand was synonymous with ice cream, which it has focused on since its earliest ad campaigns. In the 1950s, its tagline was "The cone with the curl on top," and one of its first-ever ads featured a cartoon queen who wakes three small children from their dreams of ice cream treats and sings, "I'm the Dairy Queen, won't you come with me, along the milkshake way," after which they travel on a two-headed horse made of clouds to a Dairy Queen in a cloud in the sky. (See timeline above for more on the brand's early marketing efforts.)
But in the last few decades, the brand has tried to draw more attention to its other menu offerings.
In 2004, DQ shifted its marketing strategy with its "Something Different" slogan, which included the company's first-ever North American advertising campaign focused on new menu additions. That included a TV ad campaign created Grey Worldwide New York.
In 2006, the company revamped its iconic lips logo, adding a swipe of orange at the top and a swipe of blue at the bottom. It also phased out its Brazier brand and started pushing its DQ Grill & Chill restaurants (which first started rolling out in 2001).
The following year saw DQ split into two entities: the traditional DQ format, offering ice cream treats, and the DQ Grill & Chill format, which offered an expanded menu, newly designed sit-down restaurant interiors and even limited table service at some locations.
Though DQ was pushing its hot menu options, it was also revamping its ice cream treats with a new dessert line, including freshly baked waffle cones and bowls.
To promote the new products and platforms, DQ worked with Grey New York to develop radio and TV commercials that ran across North America.
Denise Hutton, who headed up the Canadian marketing division, worked with Michael Keller, the company's chief brand officer based in the U.S., to execute the new marketing strategy across North America.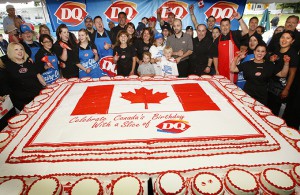 In 2011, Grey produced spots that featured a dapper man with a distinctive moustache performing ridiculous feats, such as blowing bubbles with kittens in them as part of DQ's "So Good it's RiDQulous" campaign.
But after a 15-year relationship with Grey, DQ decided to change tactics and conduct a creative agency search. (DQ had worked with Grey since 1997, and prior to that had worked with Campbell Mithun for nearly 35 years.)
At the time, Barry Westrum, EVP of marketing for DQ, said in a statement that "the QSR category is highly competitive and is at a crossroads," adding that DQ was looking for a change.
That new agency turned out to be Kansas City-based Barkley, which became DQ's new creative agency in December 2012. DQ Canada hired Publicis Canada (replacing Grey Canada) as its advertising agency of record in 2013. Publicis and Barkley work closely together, though in Canada most of the television creative is picked up from the U.S. (DQ also works with Media Profile on PR.)
Working with Barkley, the brand introduced the 2013 "Fan Food not fast food" campaign that was meant to connect emotionally with customers, while increasing awareness of its food offerings.
The campaign was designed to hit all consumer touchpoints, including television, radio, print, online, social media and in-store. National television commercials combined live-action footage of fans sharing their love of the DQ brand with photography of fresh food items.
This also coincided with the launch of the $6 Meal Deal, with a choice of three entrées, fries, a drink and a sundae, with a focus on limited-time offers (such as a free bacon upgrade). By providing a sense of value and nostalgia, the idea was to differentiate the brand from the fast-food pack.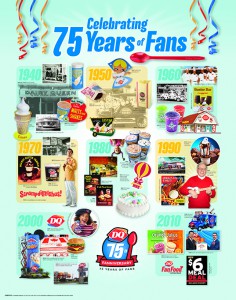 Looking ahead
While DQ is celebrating 75 years in the business, it faces a tough market in the years to come: The food service industry is expected to grow at a modest rate of less than 1% per year over the next five years in Canada, according to market research by NPD Group.
To remain relevant, QSRs will have to stay on top of industry trends and understand what consumers want, says NPD. And consumers want convenience, value, unique menu items and good service.
But QSRs will have to take it a step further and offer more choices when it comes to portion sizes, customization, fresh ingredients and different preparation styles, according to the market research.
Product innovation will be essential to staying relevant, says Ness. "That's why we change out Blizzards monthly [and] we refresh our menu on a regular basis."
While the core of the business is still ice cream treats, Ness says the key to success is providing value. "We're not always the lowest price and we're not always going to be premium," she says. "The space we really live in is balancing the two, and that's a place we try to own and provide value – and value isn't always about price."