British Airways tests your Canadianness
The airline is looking to attract Canadian millennial travellers by tapping into their sense of humour and national pride.
British Airways is trying to play on national pride to attract Canadians – and only Canadians – to the U.K. during this year's summer travel season.
In addition to static banner ads that proudly declare how the offers exclude our American neighbours (see above), the campaign includes interactive ads that serve as a sort of quiz on Canadian terms, like double-double, toque or chesterfield. Those who correctly identify the proper meaning of the words (and therefore prove their Canadianness) can access exclusive offers, such as receiving two days of free car rentals or hotel stays when booking a flight.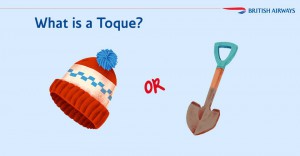 The quiz is being replicated in social media posts on British Airways' Twitter and Facebook accounts and the broader campaign features out of home ads in Toronto, the airline's biggest market in Canada. The campaign is being run by U.K. agency Bartle Bogle Hegarty, although the agency engaged Toronto illustrator Jeannie Phan to design the ads. Carat handled the media buy.
Caroline Titmuss, VP of marketing for the Americas at British Airways, says the campaign plays into the extra sense of pride Canadians seem to carry with them when they travel abroad. The airline has targeted digital ads to Canadian travellers in the past, but that work had been fairly "predictable," focusing on ticket rates and destinations. But the company's research is showing the U.K. is becoming a more popular travel destination for Canadians, particularly millennials, so Titmuss says the company wanted to speak to younger Canadian travellers and engage them on social media in a way that creates more of an emotional affinity and keeps the brand top of mind when it comes time to book their trip.
"One of the things we haven't done enough work around was the emotional connection with Canadian travellers, so this maybe shows a new side to us that some travellers haven't seen before," Titmuss says of the tone of the work. "When we were looking at how the brand can play a role with this audience, one thing that came to the top was what was seen as our joint sense of humour. We thought of how can we could do something that will stand out and perhaps be a little provocative, but still creates an affinity by playing to something that is important to this audience."

Titmuss adds that in addition to looking at revenue numbers to measure the success of the campaign, the company will be putting a lot of stock in social engagement, an important metric for the millenial target.

In addition to increasing its marketing spend in Canada, the company has also invested in expanding its fleet here, and Canada now has more of the company's new Boeing 747 Dreamliner planes than any country outside of the U.K.