Check it out: Never ending needs
How a B.C. charity showcased one child's special needs in a big way.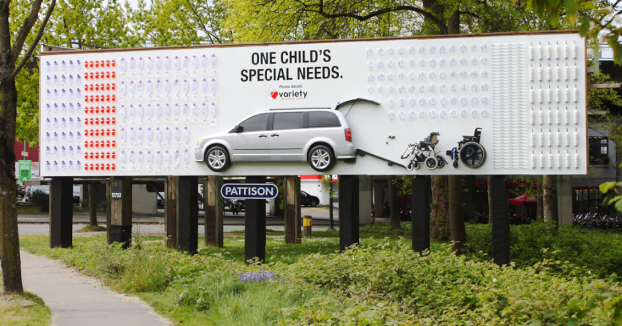 How does it feel to be a parent of a child with special needs?

Rethink brought that idea to life in a big way with its new billboard installation for Variety – The Children's Charity in B.C., with the goal of raising awareness for the organization, which supports families of kids with special needs by helping with medical costs not covered by government health plans.

"The insight we started with was that when you have a child with special needs, the needs never really end," says Max May, copywriter at Rethink. "If a family needs a wheelchair, they'll also need other things like a wheelchair accessible van, or a ramp and lift at home. And chances are the child will grow out that wheelchair in a few years. Needs add up, and compound."

Using the real-life scenario of a seven-year-old boy with cerebral palsy named Nolan, and his father Gardie, Rethink collected 468 different items highlighting what's needed to support a child with special needs (such as a specialized stroller, wheelchair, formula and other feeding supplies, expensive medications, therapies, an in-home lift for transfers and a modified van to accommodate his wheelchair). The agency thought putting the different objects on a traditionally two dimensional medium would stand out, and also show the sheer volume of one child's special needs, May noted.

A "making of" video highlighting Nolan and his dad's story, as well as how the billboard was brought to life, will be used on the charity's social media channels.

While the "Little Victories" campaign that launched last year (the first brand campaign for Variety) focused more on the challenges that children with special needs and their families face, the billboard is meant to shine a light on how those challenges can be met through support and having the right equipment, Ruby Ng, director of marketing and communications at Variety, also noted.

The billboard is close to the entrance of Granville Island and sees a cross-section of visitors, gaining 31,000 impressions per day, she added. The downtown location does reach a younger demographic as well, which was important for the charity to engage with.