Mondelez Canada's soccer play
The CPG co has launched a partnership with Canada Soccer, debuting limited edition packaging and a new app.
Mondelez Canada has kicked off a new multi-year partnership with Canada Soccer and the country's Women's National Team to help raise money for youth soccer clubs across the country in the lead-up to the FIFA Women's World Cup here this June.
An extension of the "Pride & Joy" campaign launched last year with a Canadian Olympic Committee partnership, Mondelez has now partnered with Emily Zurrer and Rhian Wilkinson, members of Canada's Women's National Team in soccer, as spokespeople.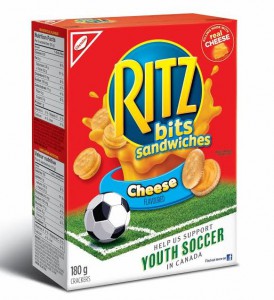 The new Pride & Joy campaign, officially launching May 11, includes limited-edition packaging for Chips Ahoy! and Ritz crackers to be sold in grocery, convenience and drug stores. It also includes a new "Cheer" mobile app. By choosing a particular soccer club and shaking a phone that has the app whenever the Canadian women's soccer team plays, funds will be raised for that particular club. Two or three clubs, drawn from 100 that qualified through a submission process in April, will be selected per game to receive up to $5,000. Overall, the Mondelez and Canada Soccer partnership will provide up to $100,000 in donations to soccer clubs, according to the company.
The company is promoting the Pride & Joy Cheer app through digital and social media and PR outreach, as well as targeted media to the 100 qualifying soccer clubs, such as OOH billboards and grassroots communications to the clubs through the partnership with Canada Soccer. The app was developed by The Hive, which led overall strategic marketing and was the lead creative agency. Edelman handled PR, with MediaVest on the media buy and Artisan Complete on in-store marketing.
With its Pride & Joy Olympics app last year, users would receive notifications when Canada won a medal (and for other big moments), with randomly selected winners winning prizes, such as Team Canada jerseys. At that time, Mondelez also launched limited-edition Olympic packaging and in-store materials.
Mondelez's brands include Chips Ahoy!, Ritz, Stride, Maynards, Belvita and Mr. Christie's.
The FIFA Women's World Cup begins June 6 and runs to July 5 across six Canadian cities.
With files from Jennifer Horn