One Show winners revealed
Check out which agencies helped Canada bring home 22 pencils this year, making it the seventh most awarded country.
The One Club has recognized the most stand-out recent work in advertising at this year's One Show, and Canadian agencies were well-represented on the list of Pencil winners.
Leo Burnett Toronto won 10 Pencils, including two Golds, at this year's awards. One of those Golds was for #LikeAGirl in the cross-platform category for brand transformation. The campaign for Always also won Silver Pencils in Branded Content, Direct and Film, as well a Bronze in Social Media.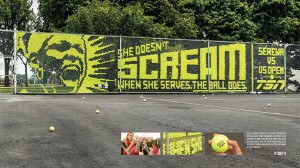 The agency's other Gold came in Print & Outdoor for its Kings and Queens of the Court campaign for TSN and its U.S. Open broadcasts. The campaign also won Leo two Silver and one Bronze Pencil, with another Bronze in the Direct category for Ikea's "Most Helpful Measuring Tape in the World."

Leo Burnett Toronto's haul tied it for fourth-most awards with Dentsu Tokyo and Leo's Sydney office. New York's Droga5 took home the most Pencils with 13, followed by BBDO New York with 12 and SS+K with 11.

Even though Sid Lee only took home one Pencil, the agency made it count: the Montreal office took home Gold in Print & Outdoor for its Reno-Depot colour-changing, sky-matching digital billboards.

Rethink's Toronto office took home three Pencils. It won a Silver and Bronze in Film for Public Service Online Video for its work with advocacy group No Ford Nation, as well as another Bronze for the Memory Project with Historica Canada.

Juniper Park and Grey Canada each won two Pencils in the Radio category. Juniper Park earned a Silver and Bronze for Public Service for the #NotOkay campaign speaking out about media depictions of violence against women for YWCA. Grey earned a Silver Pencil in Public Service for the radio portion of its work with Moms Demand Action for Gun Sense in America and Bronze in Innovation for its work on an anti-snoring campaign for GSK.

Earning one Bronze Pencil each were BBDO Canada (in Print & Outdoor for Snickers' "Hunger Scale" campaign), DDB Canada (in Film for its "Pep Talk" spot for Netflix), Tribal Worldwide Canada (for writing in Branded Entertainment for General Mills' Dadhood) and Lg2 (in Film for its "Messenger" spot for Société de l'assurance automobile du Québec).

Overall, Canada won 22 Pencils, ranking it seventh out of the 65 countries represented this year.

The big winner of the night was Funny or Die, awarded Best in Show for the episode of Between Two Ferns featuring U.S. president Barack Obama promoting Healthcare.gov, and BBDO was named Network of the Year while parent company Omnicom was named Holding Company of the Year.