Electrical Safety Authority scales its message
The Ontario organization's new spots use precise scale models to get its powerline safety message across.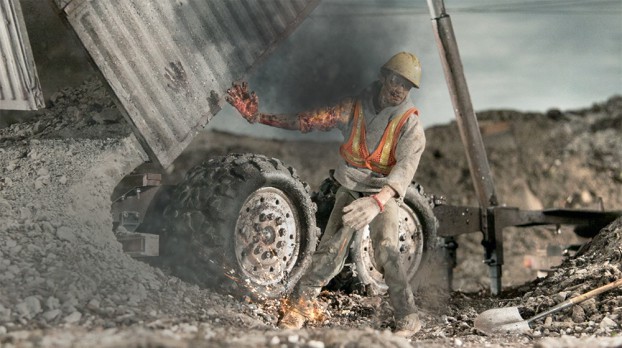 Powerline safety is no joke, and Ontario's Electrical Safety Authority hopes its new video spots will snap its target audience to attention.

The new ads, created by Idea Studio and Cuppa Coffee Studios, are launching today to kick off Powerline Safety Awareness Week. Two spots – one aimed at professional construction workers and the other at consumers – use 1:6 scale models to show the devastating effect powerlines can have. Both ads show the graphic effects of people being shocked when a powerline is inadvertently hit.

For the construction worker spot in particular, the main spot for the safety campaign, accuracy was key, says Kathryn Chopp, general manager of communications and stakeholder relations at the Electrical Safety Authority. The ESA worked with its engineers and focus groups of construction workers to ensure the look and feel of the construction site in the ad, as well as the effects of a powerline accident, were shown accurately. Small details like a workers hand print on the back of the truck he was touching before being shocked were all carefully planned to make the spot as realistic as possible, Chopp says.

"This is someone who, when they come on the job site every day, they're bombarded with safety information," she says of a typical construction worker. Despite that, powerline accidents can happen when workers or consumers become so used to their surroundings that they essentially forget that a powerline is above them.  "To cut through all of those safety messages with this one in particular we need to be very, very credible, we needed to be disruptive and we needed it to be memorable."

That was also to ensure the focus would remain on the safety message and not lead to workers saying "that would never happen," she says. "The was really important for us to take them from their living rooms, back to the job site with a very credible, very realistic creative treatment."

This is the first television push for the organization, which chose the medium for its ability to reach its target of men between 18 and 53, who suffer the most injuries and fatalities from powerlines, Chopp says.

The spots are running exclusively on Sportsnet during live sports, so people won't fast forward through it, as they might when watching another show on PVR, she notes. The ads will also run as digital pre-roll, with Cairns Oneil on the media buy. The education campaign also includes partnerships with construction groups and local power distributors like Toronto Hydro, who will distribute materials through bill inserts and newsletters, along with promoting the campaign with the hashtag #RespectThePower on social media.