Clearly Canadian launches a comeback
The '90s brand makes its return, hoping to scale to 13,000 stores in 2016.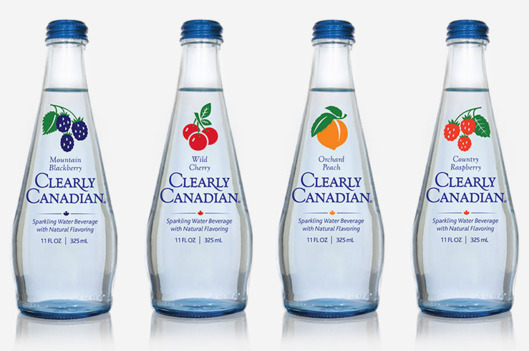 In case you missed it, Clearly Canadian is back.

The sparkling fruit-flavoured beverage, popular in the '90s, is returning after a social media and crowd-funding campaign has allowed it to be produced again.

Founded in British Columbia in 1988, Clearly Canadian had over $150 million in sales in 1992. It stopped large-scale commercial production in 2009 and was bought up by U.S. venture capitalist Robert Khan. The brand now has 30,000 cases ordered by nearly 12,000 backers. The campaign originally sought 25,000 orders in order to revive the brand. Bottle production began in April, and backers will receive their product in August.

Now, it plans to bring itself back into retail. Its goal is to scale to 13,000 grocery stores in Canada and the U.S. in 2016. It has already seen demand from "numerous" retailers, but is now mostly focused on production, Khan says.

Several factors have reportedly played into its decline, including more health consciousness among consumers, but Khan dismisses that. "Clearly Canadian did not run into any sort of consumer issue with formulas or anything like that," he says. "That is a bunch of historical hogwash in my opinion that's just not reflective of the truth."

"The decline of Clearly Canadian had everything to do with internal mismanagement," he says.

In early 2000, roughly 70% of the brand's sales were in the U.S., though it also sold in several international markets. Its marketing in the 1990s was focused largely on the natural, pure-seeming imagery of Canada, and it actually launched its product south of the border before anywhere else.

Going forward, the brand will continue to be positioned as part of a balanced lifestyle, Khan says. "Internally we don't see it as a nostalgia brand at all," he adds. "I know we're receiving all this nostalgia love, which is great, but Clearly Canadian was an extremely established brand, multi-generational, across North America."

Clearly Canadian currently has another pre-order campaign on Indiegogo, with a sales goal of $250,000. If it reaches that, backers will get to choose a fifth flavour from the original Clearly Canadian lineup that will be brought to market when retail distribution begins. "The company remains very much a labour of love for everyone who's pushing it forward," Khan says.