Gamification is everywhere
How brands are tapping into consumers' desire to keep on winning.
This story appears in the June 2015 issue of strategy.
We've been trained from an early age, when teachers would reward us with stickers and stars for good grades, to work hard for achievements. That doesn't stop as we get older. We're bred to search for recognition, and brands have identified this primal urge as an entry point to engage with us. Some marketers are bringing the satisfaction of winning to everyday, menial tasks, like dining and shopping, while others are going to more extreme lengths with elaborate campaigns that require high levels of engagement and participation from ambitious consumers.
A futuristic utopia, in which every part our lives could be turned into game, was famously described by Carnegie Mellon University prof Jesse Schell back in 2010. In his presentation-cum-rant at the DICE Summit, the gaming guru suggested we could one day be hooked up to sensors and cameras that track, measure and reward the completion of mundane tasks. Imagine a toothpaste brand dishing out discounts to people for brushing their teeth or a brand using eye-sensors to track and reward points to someone for watching their ad on TV, he postulated.
Fast-forward five years, and we're starting to see a version of this "gamepocalypse" come to life, with more brands adding a layer of gaming to consumers' everyday tasks, from eating in a restaurant to driving to purchasing a new phone or car.
"When you add a layer of gamification to otherwise unplayful [activities], you make what might ordinarily be ignored into something special and memorable," says Dré Labre, partner and creative director at Rethink Toronto, who has spoken at conferences on the subject of gamification. "[Marketers have] started to realize that you can deliver low-barrier achievements that don't take a lot of effort [from the consumer], but provide a lot of satisfaction."
Turning simple tasks into rewarding activities builds loyalty, says Labre, but it can also help train new behaviours. "There's a distinct difference between showing someone a demo of your product, and gamifying it and giving them tasks to learn how to use your product," he adds. "And today we're able to use technology to our advantage [and gamify micro-interactions] to mine data, model behaviour and train people to think and act in certain ways."
Beyond brands using gaming tactics to amplify everyday tasks, there has also been an influx of brands creating rich elaborate worlds that take a more extreme approach to get consumers engaged. Such was the case with Ubisoft's "Watch_Dogs Live" app, which turned phones into "hacking" devices and had ordinary people hack targets such as ATMs, nightclubs and airports around the country (see more here).
This extreme gamification can yield the top level of engagement, but brands beware, says Cory Eisentraut, VP, creative director at Havas Worldwide (and one of the creative brains behind the SickKids "Pain Squad" app, which saw hospital patients log their pain through a mobile game). What's asked of the consumer has to be commensurate with the benefit they receive, or marketers risk losing their attention. "Too often what we're finding is [brands create] these worlds that people don't want to participate in [because] they overestimate the interest level of their consumer base," he says.
"If you don't already have a built-in audience [like Ubisoft's gamer community] and the experience has two or three steps to it, I think the fall off can be tremendous, and the investment's not worth it in the end."
Keeping it simple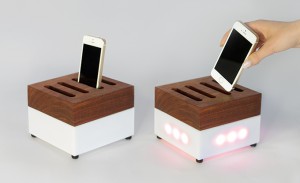 Turtle Jack's blocks phones
It seems you're more likely to find diners' heads buried in phones than their meals these days. So, in an effort to get people to relax and reconnect, Ontario restaurant chain Turtle Jack's Muskoka Grill and agency Union created a "phone block," which people could use to stash their phones while at the eatery from April to June. If they picked up their device, an alarm would set off, but, if they managed to make it to the end of their meal without giving in, they received 20% off their bill.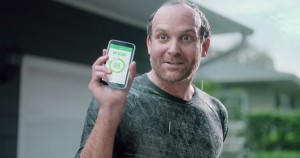 Safety first with Desjardins
Canadian insurance co Desjardins wanted to help drivers be safer, so in April it created the Ajusto app, which measures how smoothly a driver brakes, accelerates and takes a corner, as well as tracks speeds, the time of day they travel and typical trip duration. The app (created by Cambridge Mobile Telematics), used the data to compile a score to determine the discount they could receive on an insurance package. As their driving improved, so did their discount, with users receiving up to 25% off their premium.
Samsung takes the crowd out of lineups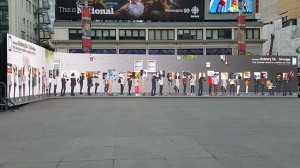 There's nothing exciting about standing in line to purchase a product. Samsung Canada, however, managed to make the act of waiting for its new Galaxy S6 line of mobile devices an engaging experience with a contest dubbed the #S6Lineup (created with the help of Wright XM in April). People could avoid crowds and lineups at malls when the device launched earlier this year by sharing Samsung-created content (from photos to videos) with their social networks. The more they shared, the more points they earned, moving them up on a virtual list of people lining up to purchase the new phone.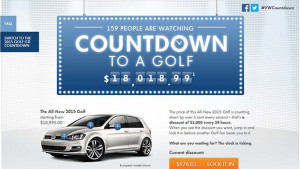 Volkswagen reverse-auctions its cars
It was "opposite day" when Volkswagen decided to auction off its vehicles online in early 2014. Instead of having Canadians participate in a bidding war, the brand did the reverse and had the price of its new Volkswagen Golf and Golf GTI decrease by one cent each second (the "Countdown to a Golf" would discount the price by up to $1,000 per day, with the potential to fall to $0). People could lock in the discounted price before someone else, and each time a vehicle was reserved, a new one would appear at the original price.
Extreme gamification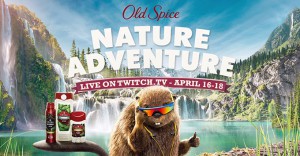 Old Spice goes on a Nature Adventure
To introduce its new Fresher Collection, Old Spice in the U.S. put a twist on the whole Survivorman scenario with a branded game in April. It dropped a regular guy into a massive forest to fend for himself, and invited the public to chime in and command him to do whatever they wanted via the chat feature on gaming portal Twitch. "Nature Man" was "contractually obligated" to do whatever millions of internet users bid him, and for three days, people commanded him to bury a pizza, joust a "bear" and eat strange berries, among other bizarre things.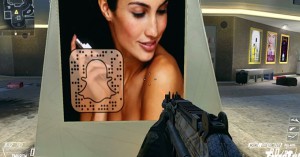 Activision and Snapchat's hidden messages

Creating a game inside a game — you can't get much deeper than that. Working with Edelman Digital, AKQA and game developer Treyarch, Snapchat and Activision in the U.S. programmed various worlds within videogame Call of Duty: Black Ops 2 with "Easter eggs" (or hidden messages) in April. Items, such as posters, within the game featured Snapchat's ghost symbol, and each time a player approached the "Snapcodes" a short, cryptic video clip would play. Gamers had to search for the clips, which they could use to piece together a teaser trailer for the franchise's upcoming Black Ops 3 game.

Top photo courtesy of JD Hancock/Flickr Creative Commons