Zulu fills nine more desks
A series of hires comes in response to new work, and to bolster the Zulu Live social team.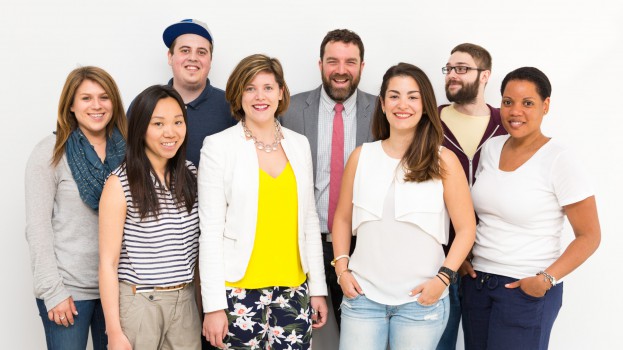 Zulu Alpha Kilo's new hires, from left to right: Maya Adler, Winnie Hsiao, Curtis Denomme, Maegan Thomas, Roy Gruia, Fiorella Martinez, Joel Felker and Jolette Samuel.

A week after the news broke that Zulu Alpha Kilo had hired ECD Allen Oke and the creative team of Guilherme Bermejo and Nicholas Doerr from TBWA\Toronto, nine more account and creative hires have been announced at the agency.

The hires come in response to a mix of organic growth at the agency, as well as new projects with clients Hershey Canada and Alterna Savings.

On the creative team, Zulu has hired copywriter Joel Felker, plus art directors Curtis Denomme and Fiorella Martinez. Felker joins from TrojanOne and Denomme from Agency59, having also had a stint as art director at Grip. Martinez is a recent graduate from OCAD and has been hired after interning at the agency.

Felker and Denomme are being added to the Zulu Live team, a group within the agency started roughly a year ago. That team – which is now comprised of about seven full- and part-time creatives, digital strategists and editors as needed – is not assigned to any particular client or brief, instead focused on creating real-time content for the agency's clients on social platforms, such as Corona and Audi.

"When it comes to creating real-time content for social platforms, that [creative resourcing] doesn't work," says Mike Sutton, president at Zulu Alpha Kilo. "You don't have time to resource a team and start them tomorrow, because if something is happening in the world, that needed to happen yesterday."

In a newly-created role at Zulu, Jolette Samuel has been hired as broadcast manager. She joins after more than five years on the media agency side, having previously been supervisor of traffic and talent, and special projects lead, at IPG Mediabrands.

On the account side, Roy Gruia joins as group account director. Gruia was previously leading the McDonald's account for Cossette and has also had account director positions at FCB and Ogilvy & Mather. The agency has also added a pair of new account supervisors, Maya Adler from Publicis and Mike Johnson from DDB, as well as two new account executives, Maegan Thomas from Entrinsic and Winnie Hsiao from Juniper Park.

Gruia, Johnson and Adler have been hired as replacements for previously departed members of the account team, while Thomas and Hsiao are in new positions created after a recent series of assignment shifts.