Twitter steps into reality for World Cup
The company, along with Eventpeeks and TSN, brings the social conversation about the tournament into the real world.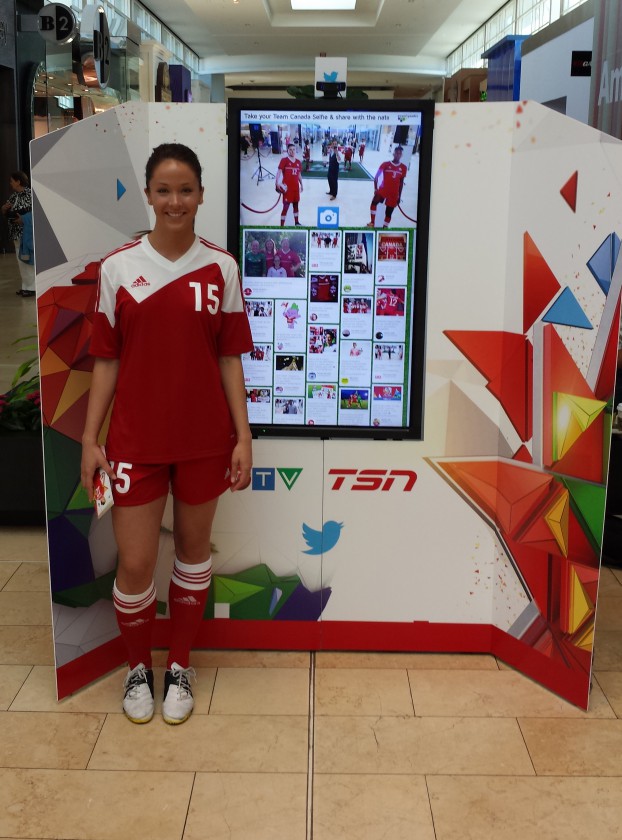 Last year's FIFA World Cup was one of the most tweeted-about events in Twitter's history. For the FIFA Women's World Cup, Twitter Canada has brought that social media fever into the real world by partnering with Kitchener-based social startup Eventpeeks.
Eventpeeks' core product is a social media broadcasting platform that curates and compiles social media posts to be shown live on-screen during events like the Junos, TIFF or the YouTube Fan Fest, as well as an analytics platform that measures the audience engaging with the event. John Beresford, co-founder and managing partner at Eventpeeks, says it takes what can sometimes be a very personal social media experience and makes it more communal by mixing an audience's posts together on a feed.
For the World Cup, Eventpeeks and Twitter Canada partnered with TSN on a version of its product that bridged the gap between the physical and digital worlds. Dubbed "Twitter TV," Eventpeeks used a touch-screen that allowed visitors to Toronto's Yorkdale Mall during Team Canada's first game on Saturday to scroll through the broadcast of posts, or use it to take their own photos live that were tweeted out through a Twitter account TSN had set up for the event and added to the feed.
"Before, people used their phones to contribute to the feed. This is the first time where there's purpose and direction to engage on social at a live event," Beresford says. "There is so much we consume online, but people still love to get together for sports. [Twitter TV] was perfect for something like this because, even as big as the conversation happening online is, there's still a desire to experience the World Cup in a live way."
Christopher Doyle, director of media partnerships at Twitter Canada, says there aren't specific plans to use the new screen at further games during the tournament, although the company is leaving the option open based on the results of the activation at Yorkdale Mall. He adds that while encouraging the social conversation around big events is a major way Twitter engages its users, the World Cup is an especially important one and partnering on a live activation on the ground in Canada made sense by bringing the pre-existing global conversation together with the desire for a live element.