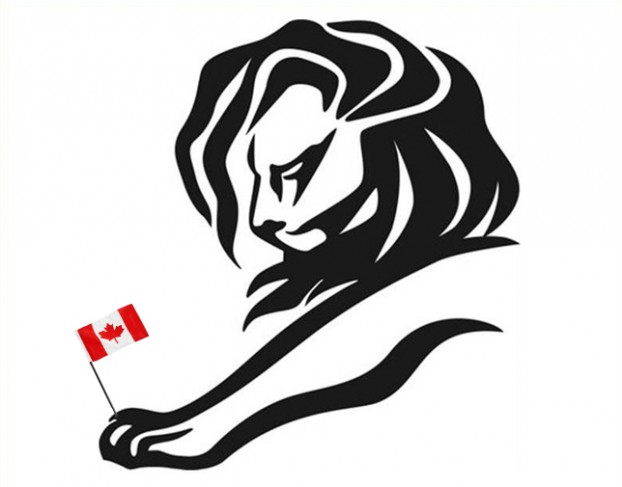 Despite drops in its most popular categories, Cannes has seen another record-breaking year for entries, with 40,133 entries received for Lions, Lions Health and Lions Innovation, up nearly 5% from last year.
Canada had a total of 949 entries in the main festival, the ninth-highest number globally. That is down from 995 last year, where the country sat in the eighth position, although the number goes up to 1,024 when including Lions Health and Lions Innovation (which has been spun out into its own festival-within-a-festival this year). While there was a significant drop in the number of Outdoor entries, it remains the leading category for Canadian entries, ahead of Film (which saw the second-largest increase in entries) and Cyber. The largest increase in entries came in Film Craft, which doubled the number of entries from last year. The full list of Canadian entries, broken down by category, is below.
Canada also had six entries in the Glass Lions and 11 in the Creative Data Lions, new categories for this year. Overall, the awards saw 166 and 619 entries, respectively.
Outdoor also remains the most popular category at Cannes as a whole despite an 11% drop, seeing 5,037 entries this year, compared to 5,660 in 2014. Press also saw a drop from 5,007 to 4,470, but was the second-most popular category, ahead of Cyber and Promo. The Creative Effectiveness Lion saw the biggest growth in entries, doubling to 160. Branded Content (16%), Film (8%) and Film Craft (6%) also saw growth compared to last year.
Breakdown of Canadian Cannes Entries (last year's numbers in brackets):
Cannes Lions:
Outdoor: 141 (down 60 from 201)
Film: 140 (up 23 from 117)
Cyber: 107 (no change)
Design: 87 (down 16 from 103)
Radio: 78 (up 12 from 66)
Promo & Activation: 78 (up 4 from 74)
Press: 63 (down 10 from 73)
Media: 63 (down 16 from 79)
Direct: 50 (up 2 from 48)
Film Craft: 50 (up 25 from 25)
Branded Content & Entertainment: 29 (up 9 from 18)
Mobile: 21 (down 13 from 34)
PR: 19 (down 9 from 28)
Titanium & Integrated: 12 (up 4 from 8)
Glass: 6 (new award)
Creative Effectiveness: 3 (down 4 from 7)
Product Design: 2 (down 3 from 5)
Lions Innovation:
Creative Data: 11 (new award)
Innovation: 3 (up 1 from 2)
Lions Health (last year's numbers not available):
Health and Wellness: 45
Pharma: 16