Canada has 21 more chances at Cannes Lions
Nominations have been announced for Media, Outdoor and PR, while we're shut out of Creative Effectiveness.

By Jennifer Horn, Josh Kolm and Emily Wexler
Canada has 21 more chances at winning Cannes Lions, with the most shots in Outdoor, with 17 mentions out of 141 entered (our most-entered category), including another handful for Leo Burnett. We also have three noms in Media (out of 63 entered) and one in PR (out of 19). Our country was shut out of Creative Effectiveness, for which we had three entries.
The winners for the PR, Outdoor and Media winners (as well as the Glass Lions, with the shortlist being released tomorrow) will be announced at a gala Tuesday evening. Check back this afternoon for winners in the Direct, Press and Promo & Activation winners.
And follow #strategyatcannes or our Cannes 2015 tag to stay up to speed on all results.
PR: 1
Moms Demand Action for Gun Sense "Groceries not guns" Grey Canada
Public Affairs & Lobbying

The video, "Not Allowed," which showed items like a skateboard and ice-cream banned from Kroger stores, while firearms are still accepted, was part of the U.S. org's efforts to convince the grocer to ban open-carry of firearms. The campaign also included the "World's Longest Receipt" where people could state how much they're spending at other retailers as a result of them boycotting the chain.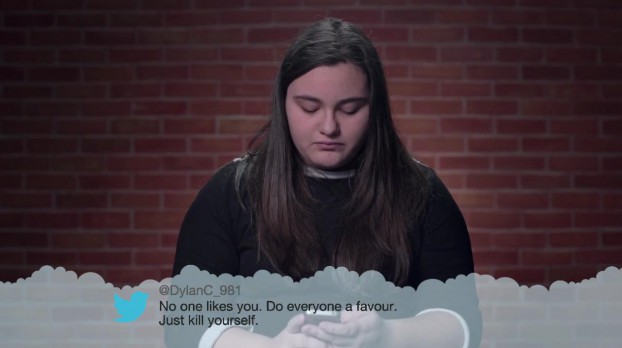 Media: 3
Canadian Safe School Network "Kids Read Mean Tweets" John St.
Public Health & Safety & Public Awareness Messages
In this campaign, the organization parodied the ever-popular "Celebrities Read Mean Tweets" segments from The Jimmy Kimmel Show. As the video goes on, and more kids read the sexist, homophobic, racist and simply hurtful things that are said online, the laugh tracks in background gets less and less enthusiastic, showing that these things aren't funny when it's not a famous face reading them.
Molson Canadian "Hockey Heaven" Rethink
Use of Events & Stunts
For this extension of the "Beer Fridge" campaign, the brand asked people to submit what they would do for the game via social media. Andrei Lanochkin proved his love when he uprooted his family from their home in Estonia to Canada, just so his son could grow up playing hockey. So, as a tribute to them (and the game), Molson built a giant ice hockey rink within a snow-covered crevice in the Rocky Mountains. Molson then had Lanochkin's son, Vitaly, surprise him with a helicopter ride to the remote location. That same helicopter later delivered the red Molson fridge to the rink, after their game.
Ikea Canada "#ShareTheBathroom" Jungle Media and Leo Burnett, Toronto
Use of Other Digital Platforms
For Ikea's "Share the Bathroom" campaign, Leo Burnett worked with Jungle Media, which developed technology that lets a visitor to Ikea.ca create a display banner with a personal message, like "Jenny, we could use new towels." The household IP address was then tracked and the ad delivered to sites visited on that IP address, ensuring Jenny gets the message.
It's also worth noting that Leo's "#LikeaGirl" campaign for Always was nominated in the Media category for Use of Social Platforms, but since media was handled by Starcom MediaVest Group in Chicago, it was considered an American entry for this particular category.
Outdoor: 17
Lego, "Laeticia," "Mika" and "Tam" Brad (Montreal)
Entertainment & Leisure
A series of posters launched last holiday season showed how a child-like imagination is all it takes to use a single brick to create a special moment.
Farnham Ale & Lager, "Soccer" and "Spouse" Lg2
Drinks (Alcoholic & Non-Alcoholic)
The posters showed a line of brewing vats stylized as German soccer fans or smiling spouses receiving a ring, interrupted by a fan from Brazil or spouse that got a mixer, respectively, with the tagline "A Bit Bitter." The campaign launched in December and ran at trade shows and bars, as well as in specialized magazines in the Quebec market. The posters were also used as a giveaway for visitors to the brand's Quebec brewery.
Preparation H (Pfizer Canada), "Waiting Room" Y&R Toronto
Cosmetics & Beauty, Toiletries & Pharmacy
Videotron SuperClub, "Forrest Gump" Sid Lee (Montreal)
Retail Stores, Restaurants & Fast Food Outlets
To promote the video store, Videotron's SuperClub and Sid Lee showed the reactions someone gets when it is discovered they haven't seen films widely regarded as classics by their friends and co-workers.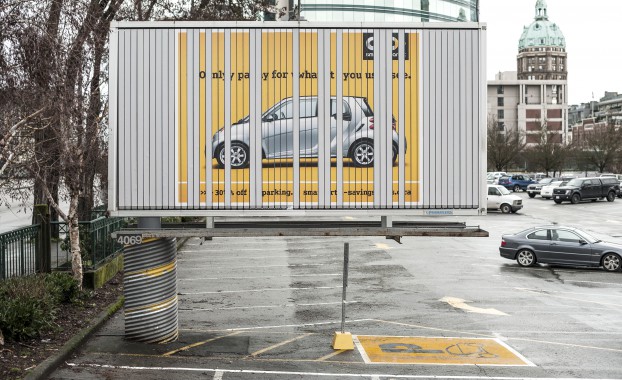 Smart Car (Mercedes-Benz Canada), "Only Pay For What You Use" 123W
Adapted Billboards and Outdoor Posters
Using what some might consider an out-of-date form of out-of-home, 123W took a rotating tri-board located above a Smart Car-sized parking space in downtown Vancouver that brought together pieces of a poster as its panels turned. The message was that using less space also uses less energy, and it launched Smart's add-on program, which offers drivers discounts on things like parking and car washes for its smaller line of vehicles,
TSN (Bell Media), "Serena," "Milos" and "Eugenie" Leo Burnett Toronto
Adapted Billboards and Outdoor Posters
Illustration
To promote its coverage of the U.S. Open tournament, Bell Media's TSN and Leo Burnett took to local courts to create massive visually striking murals with 15,000 yellow balls, creating a portrait of the faces of tennis stars Serena Williams, Milos Raonic and Eugenie Bouchard.
Moms Demand Action for Gun Sense in America, "Skateboard," "Ice Cream" ad "Shirtless" Grey Canada (Toronto)
Fundraising, Donations & Appeals, Charities, Non-Profit Organisations, Public Health & Safety, Public awareness messages