Canada's latest shortlist chances in Cannes
The third day of Cannes bring another 33 chances at a Lion for Canada, including a pair in the new Glass Lions.
Though the first two days at the 2015 Cannes Lions saw many of the expected campaigns out of Canada recognized on shortlists for coveted Lions, day three saw the biggest crop so far, thanks in part to letting some other work share the spotlight. Despite no noms in Product Design (we only had two entries), we've made appearances on the lists for Cyber (10 out of 107 entries), Radio (12 out of 78), Design (nine out of 87) and the equality-focused Glass Lions (two out of six).

Cyber: 10
Ikea Canada "#ShareTheBathroom" Jungle Media and Leo Burnett
Innovative Use of Technology
Innovative Online Ad Solutions
For Ikea's "Share the Bathroom" campaign, Leo Burnett worked with Jungle Media, which developed technology that lets a visitor to Ikea.ca create a display banner with a personal message, like "Jenny, we could use new towels." The household IP address was then tracked and the ad delivered to sites visited on that IP address, ensuring Jenny gets the message.
Molson Canadian "The Beer Fridge – O Canada" Rethink
Innovative Use of Technology
Social Video
The Beer Fridge, which was originally placed in random locations abroad, only to be opened with a Canadian passport, returned home with a slight tweak – this time the only way to open the fridge was with a proper rendition of Canada's national anthem.
Uber "Uber Safe" Rethink
Innovative Use of Technology
When there was no designated driver in sight one late night in Toronto, Uber helped out by giving night-owls a breathalyzer test on the street (via its "Uber Safe" kiosk), which measured their alcohol level and immediately ordered a free Uber cab if it was above the limit.
Moms Demand Action for Gun Sense in America "Groceries not guns" Grey Canada
Charities, Public Health & Safety, Public Awareness Messages
Use of Co-creation & User Generated Content
Community Building/Management
This campaign included an online video, "Not Allowed," which showed items like a skateboard and ice-cream banned from Kroger stores, while firearms are still accepted. The campaign also included an online call to (no) arms, rallying celebrities and citizens behind the cause, as well as the "World's Longest Receipt" where people could state how much they're spending at other retailers as a result of them boycotting the chain. The campaign has already won a Gold in Promo & Activation and a Silver in Direct.
Always (Procter & Gamble) "#LikeaGirl" Leo Burnett
Social Video
Community Building/Management
In the viral spot, Always and the Toronto, Chicago and London offices of Leo Burnett, and Holler London, filmed girls of different ages reacting to phrases like "run like a girl" or "throw like a girl." Some younger girls took it to mean "run/throw as fast as you can," showing they haven't yet been affected by the term. Teens and young women, however, demonstrated the negative meaning of the expression by feebly running and throwing a ball. So far, it's won a Gold and Silver in Direct and a Gold and a Bronze in Promo & Activation.
Radio: 12
Canadian Film Fest, "Cops," "Romcom," "Slasher," "Scifi" JWT Canada
Entertainment & Leisure
To convince film fans to "Escape the Cliche" of mainstream cinema, these ads mimicked both the standard radio ads and predictable plot points for individual genres, from the renegade cop who has to turn in his badge and gun, to the guy who stops his true love from getting on a plane with a passionate public speech.
Societe de l'assurance automobile du Quebec, "Gandhi" Lg2
Public Health & Safety
In an anti-texting and driving campaign, the dates of death of some of history's most famous figures – Ghandi, Martin Luther King, Harvey Milk – are given, along with the messages of peace, hope and equal rights they died protecting. Some messages are too trivial to die for by texting them while driving, so it ends with a far more recent death, and the message she died for: "did you rent the movie?"
YWCA, "Not A Game," "Change the Tune" Juniper Park
Public Awareness Messages
"That's No Joke"
Public Awareness Messages
Scriptwriting
For the radio portion of the bold "#NotOkay" campaign directly calling out depictions of violence against women by some of the world's biggest TV comedians, musicians and video games, a voiceover calmly and matter-of-factly describes a scene, making it sound more like a domestic crime scene re-enactment than a clip from Family Guy.
Moms Demand Action for Gun Sense in America, "Poodle," "Scooter" and "Super Soaker" Grey Canada
Public Awareness Messages
The radio ads in the campaign to get Kroger to stop allowing the open carry of firearms in its grocery stores took the concept of the video and print ads directly to the company. Recording calls to the retailer's corporate office, people argued about why things like dogs, scooters or water guns were not allowed in stores, but loaded assault weapons were.

Glass: 2
YWCA, "#NotOkay" Juniper Park
Depictions of violence against women in entertainment are all too common, and the YWCA wanted to give Canadians a way to stand up against it. On social media, where mainstream media content is shared every day, it started the hashtag "#NotOkay" to both flag content and to call scenes of violence out directly. To jumpstart the conversation, its own creative did the same, taking rapid-fire clips of women being assaulted from Family Guy and Grand Theft Auto and putting them together in 12-second videos on Instagram, showing how these depictions are far more common than we might realize.
Always (Procter & Gamble) "#LikeAGirl" Leo Burnett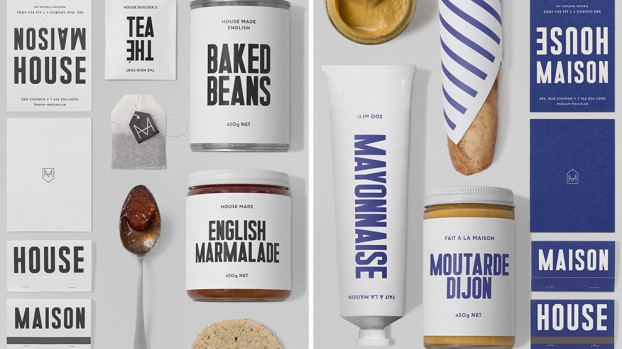 Design: 9
House-Maison "House-Maison Rebrand" Leo Burnett
New Brand Identity: the Creation of a New Brand Identity
Publications & Brand Collateral
What do you do when you have a restaurant that's located in a country that's part-English and part-French? You embrace the two, of course, and leave no hungry soul behind. The branding for House-Maison exemplifies this fusion of cultures, with typography and design elements that pull from both. For example, the food can be ordered in either language: scone/croissant, chips/frites and tea/cafe au lait.
Ikea "Inspiration Boxes" Leo Burnett
Sculptural
3D Structural Design
Thousands move house the same day, and with this mass exodus, comes a scarcity of boxes. So the retailer and agency helped movers by dishing out free packing boxes that not only stored their possessions, but were also designed as actual-size replicas of Ikea furnishings, so people could sample the products in their new home.
Leo Burnett "Christmas Wrapping Paper" Leo Burnett
Self-Promotion
Oddly-shaped gift boxes? Unmanageable wrapping paper? If these were your Christmas wrapping woes last season, then you obviously didn't get your hands on the Christmas Wrapping Paper that Leo Burnett designed. They were triangular and square-shaped to hug sharp and odd corners, as well as unrippable and reusable for whatever else you planning to wrap the next year.
Ikea "The Most Helpful Measuring Tape In The World" Leo Burnett
Publications & Brand Collateral
A measuring tape needn't be as simple as it sounds. Leo Burnett and Ikea decided that the retailer's measuring tape needed to be the most helpful one ever made. So it created one that came with the brand's catalogue and showed popular items at their exact centimetre length, and even directed people to the right page where they could find more info.
Bell Media (US Open) "Kings and Queens of the Court" Leo Burnett
Outdoor Spaces e.g. Installations
To promote its coverage of the U.S. Open tournament, Bell Media's TSN and Leo Burnett took to local courts to create massive visually-striking murals with 15,000 yellow balls.
Advertising Club of Canada "ADC Traveling Exhibit" Sid Lee Montreal
Self-Promotion
Sid Lee's travelling exhibition for the Art Directors Club (ADC) literally put people in the front seat of the best advertising out there. There's a harp that plays a winning piece of work with each pluck of a chord, as well as an arcade-style joystick and a reclining bike used to shift/pedal through campaigns.
Sonos "Sonos Brand Identity" Bruce Mau Design
Rebrand or Brand Refresh: Renewing a Current brand Identity
Bruce Mau Design worked on the Sonos brand identity to create a modern music experience that included new product photography and the introduction of three graphics.