Six Cyber Lions for Grey, Leo and Rethink
If the work didn't have innovation in its DNA, then it didn't get a medal, said jury president Jean Lin.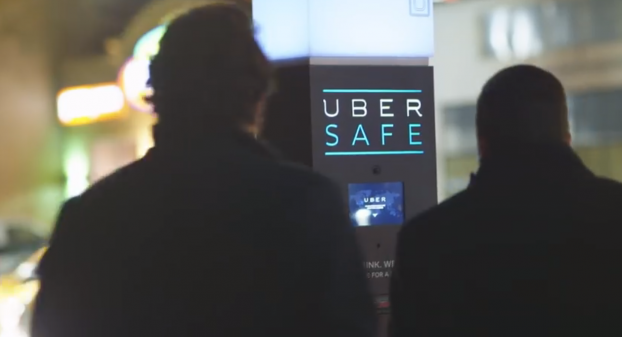 It's no small feat being medalled six times in the Cannes Lions Cyber category. That's because, in total, there were 3,700-plus campaigns entered across 54 sub-categories (of which 107 were Canadian). That makes Cyber the third-most popular category among entrants and one of the toughest in today's age of rapidly changing tech.

But agencies Grey, Leo Burnett and Rethink did it and tonight they took home three Golds, two Silvers and one Bronze for tech programs developed for clients Moms Demand Action for Gun Sense, Always and Uber (respectively).

Grey has had a good run so far. In addition to tonight's one Gold and two Silver Lions for its "Groceries not Guns" campaign, it also pocketed a Gold in Radio, Gold in PR, a Gold in Promo & Activation and a Silver in Direct for the same campaign earlier this week (more than doubling its tally to seven in just one night). The awards Grey and Moms Demand Action picked up tonight were in the sub-categories Charities, Public Health & Safety, Public Awareness Messages; Use of Co-creation & User Generated Content; and Community Building/Management.

Leo Burnett has also been on a winning streak this week. Tonight the agency adds another two Gold Cyber Lions (in the Social Video and Community Building/Management sub-categories) to its running total of 11 for Always' #LikeAGirl (it also won a Grand Prix and Gold in PR, Gold and Bronze in Media, a Glass Lion, Gold and Bronze in Promo & Activation, Gold and Silver Direct). Not to mention the shop has also picked up a Silver Outdoor Lion for TSN and a Bronze Design Lion.

Rethink, meanwhile, made its first appearance on the awards stage tonight, taking home the Bronze Cyber Lion (in the Innovative Use of Technology sub-category) for keeping drinkers safe with Uber's street-level breathalyzer technology, called "Uber Safe." With the technology, Uber gave night-owls a breathalyzer test on the street via the kiosk, which measured their alcohol level and immediately ordered a free Uber cab if it was above the limit.

"If you look at the innovative use of technology it was one of the most competitive categories in the show and you're up against game-changing ideas," Patrick Scissons, CCO at Grey Canada and Cyber jury member says of the other Canadian work that didn't go home with a medal. "It was an extremely competitive category. Even being shortlisted…you're looking at less than 10% and if you're being given a medal in the final discussion you're in the top 3 to 5% of the entries."

The ideas that did manage to make it past the shortlist round were those that had innovation in their DNA, said Jean Lin, Cyber jury president and global CCO of Isobar. "If you don't have the innovation aspect, you probably won't qualify for a medal," she said, adding that there was more "confidence" in the work that made it to the jury room, with more campaigns that were less about an "idea" and more about something that led to actual empowerment and strong human narratives that had an impact and influence on society.

Such was the case with the Grand Prix. The top honour went to Under Armour's "I will what I want" campaign, featuring model Giselle Bündchen, and created by Droga5 New York. A microsite showed Bündchen boxing with bags and working out while real-time social media (negative and positive) comments about the model were displayed on-screen.