The new world (media) order
From new stars to platform choices galore, editor Emily Wexler reflects on the content jungle out there.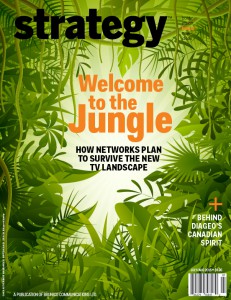 This story appears in the July/August 2015 issue of strategy.

I didn't realize what it meant to be internet famous until I got an Instagram account. No, I'm not talking about myself, I'm talking about those people who would constantly make the "popular" page. I'd look at their followers – 500,000, 1.4 million…Who are these people? How come I had never heard of any of them? I'm not that old, but maybe I am that old? Being on the cusp of Gen X and millennial, I float between the two worlds – I have Twitter, Instagram and Facebook, but not Snapchat or Vine. I watch the latest shows on Netflix, but I don't spend a lot of time on YouTube. I can intuitively understand a new app, but I don't bother with a lot of them.

I don't want to generalize and assume that because someone is older than me they must be less tech- and trend-savvy (I know that's not the case), but if I'm blissfully unaware of the mega-popularity of internet stars, I can imagine that many senior marketers are too. Even Justin Stockman, VP specialty channels at Bell Media, said the staff at Much – who are relatively young – felt a knowledge gap when it came to internet star power.

But the tides are turning. Thanks to events like YouTube FanFest (held at Toronto's Yonge-Dundas Square in May) and the mainstream media picking up on their fame, these new stars are suddenly everywhere. Broadcasters are seeing their potential too, with the likes of Much and Corus launching their own multi-channel networks (MCNs) because the big media cos are realizing it's a game they should be playing (see here).

At this point, no one is putting all their eggs into the linear TV basket. Streaming services, MCNs, connecting across platforms – broadcasters are spreading out their content. But are they spreading themselves too thin?

I was chatting with Katie Bailey, editor of our sister pub Playback, which covers Canadian film and television, upon her return from the Banff World Media Festival. She said a concern she heard raised was whether broadcasters stepping away from their core ad product was diluting their offering. Is there such a thing as too much choice? Further, consumers don't even know which platform to watch a show on anymore, which can lead to frustration.

But too much choice might just be a necessary evil in today's media landscape. Broadcasters have to go where the eyeballs are going. (If Netflix didn't evolve, it would still be mailing out DVDs – in other words, bankrupt.)

And the eyeballs are going online to watch some kid you've never heard of narrate a videogame you've never played in front of 2.5 million of his closest pals.

Welcome to the jungle, indeed.