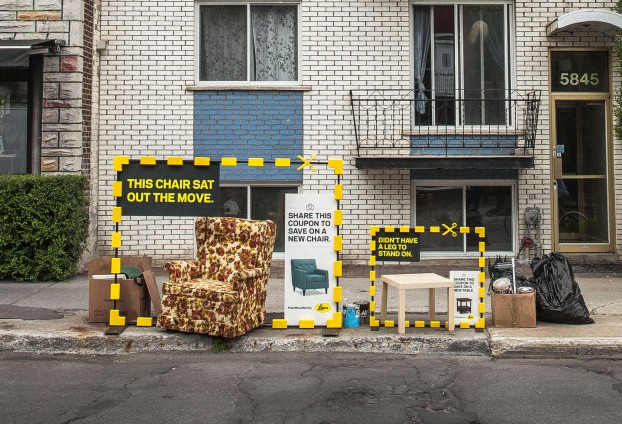 Moving can be a time of both stress and renewal – a chance to start fresh after the chaos, leaving behind things you don't need. A look on the streets of Quebec around the time of its annual Moving Day would suggest a lot of furniture doesn't make this cut.
For a new campaign in the province, Leon's, its new AOR Taxi 2 and Taxi Montreal aimed to highlight how the retailer's furniture is in fact move-worthy (not a temporary fix or something that will fall apart if it's disassembled), by pointing out the abandoned pieces on the streets.
To support Leon's "Save the Tax" promotion, 3D coupons were framed around actual discarded furniture in the greater Montreal area over the June 27-28 weekend (when many Quebecers move), enabling consumers to take a photo which could be redeemed in store for its products (considered "move-worthy") and shared digitally. Two days before the execution, one-by-two-foot stickers with the phrase #getmoveworthy in English and French were also set up in busy areas of Montreal.
The campaign led to a double-digit increase in sales and traffic over the weekend in most of its Quebec locations versus a year ago (the execution was promoted via owned social to the rest of the province), and is Taxi 2′s first program for the retailer since it became its AOR earlier this year.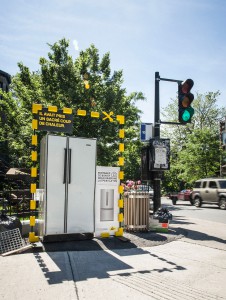 Leon's faces low brand awareness in Quebec, says Andrea Graham, head of marketing for the retailer. (Ikea, Tanguay and Brault & Martineau are the market's dominant players.)  So the goal of the program was to bolster it, and also snag the attention of younger consumers. The brand typically speaks to an audience roughly between the ages of 35 to 55, but recognized the opportunity the younger millennial market presents.
Major retailers in Montreal and Quebec City tend to have similar Moving Day advertising, with many running a save-the-tax type of promotion, adds David Leclerc, regional director in Quebec for Leon's. And while it's hard to reinvent this kind of program, Leon's wanted to tackle it in a more engaging way (other retailers tend to support it with more traditional media), he says.
Previous Moving Day programs saw the retailer promote local products or emphasize a particular brand and offer deals in its category (such as appliances), which consumers shop for during that time of year. And the retailer will continue this to some degree this year.
The province hasn't really been a key focus for the brand in the past, says Graham, but that's changing.
This summer, the retailer is conducting research, and plans to develop more market-specific programs. (Leon's undertook research prior to the current campaign, but it was only to get a sense of its basic brand awareness.)
"We don't really need to change our image in Quebec," says Leclerc, "we just need to build it."
With files from Jennifer Horn