Check it out: Irish ad folks told to go home
A recent out-of-home campaign for The Social House isn't quite what it seems.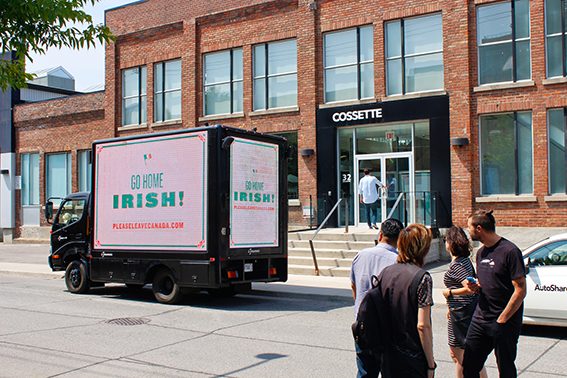 Here's one way to address the issue of talent retention in the ad industry.
Last week, a truck was touring Toronto, with digital billboards on its sides proclaiming "Go Home Irish" and pushing those who see it to a "PleaseLeaveCanada.com" URL.
While the boards are obviously meant to invoke anti-Irish sentiments that were rampant in Canada and the U.S. in the 19th and early 20th centuries, there is actually a good-natured intention behind them.
The truck was part of a self-promotion campaign for The Social House, an agency based in Dublin, that's looking to recruit Irish ex-pats who have gained international experience working at Canadian agencies. Agency founder Colin Hart told Ireland's The Daily Edge that the truck was sent to agencies where they knew Irish people are currently employed. Going to the URL redirects to The Social House's website, with a special pop-up (pictured below) showing the URL is actually an earnest plea.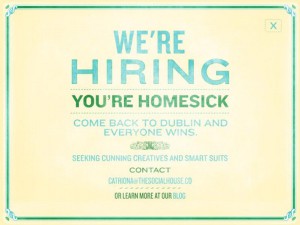 "We are not anti-emigration, but we would love to lure some of these internationally seasoned brains back home by pretending to be anti-Irish-Canadians," a press release from the agency said after the stunt began to get noticed. "We have been abroad ourselves. We know the pull of home, but [also] the fear that you may have to compromise on your career to come back. It can seem from the outside that Dublin does not offer as good an opportunity as somewhere like New York, London, Sydney or Toronto. But Dublin is finding its feet again as a creative city, and we are working hard to mess with the system and make advertising more fun."

The Journal in Ireland has drawn a connection between this campaign and the agency's work for Irish betting service Paddy Power, which has included controversial stunts like offering cyclists clean urine for drug tests during the Giro d'Italia race, bubble-wrapping a store to protect it from English football hooligans ahead of a match and poking fun at the failed Scottish independence vote.

While several Irish news outlets have claimed the stunt is "ruffling feathers" among staff at some (un-named) Toronto agencies, and The Social House has reported receiving some angry emails, strategy has yet to hear any complaints from Toronto's creatives. Some anger has been expressed on social media, but mostly from those outside of Toronto responding to media reports, instead of those who actually saw the ads live.

What do you think? Is this campaign tempting any of our Irish readers? Or is playing on a history of bigotry towards the Irish in North America a step over the line, even if it's being done by Irish people themselves?