Vichy's look in the mirror
Montreal's Tuxedo helps the L'Oreal brand gain traction south of the border.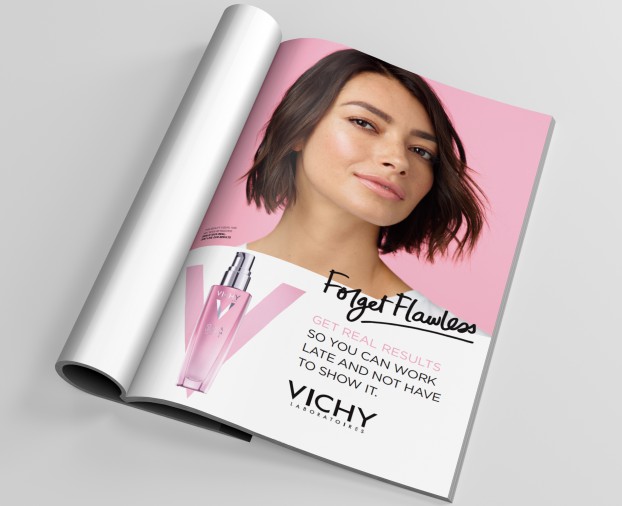 Vichy Laboratories is looking to gain more brand recognition in the United States with a new campaign created by Agence Tuxedo in Montreal called "Forget Flawless."
The "See Something Better" video spots highlight the self-criticism many women invoke when looking in the mirror, and aims to turn those times into moments of confidence instead. Beginning today, the brand is launching a programmatic campaign to target women at different life stages with shorter versions of the video along with in-store materials, print and an outdoor campaign that Tuxedo says is free of any retouching.
In April, the L'Oréal brand worked with Publicis Montreal on its "Vichy Works for Me" campaign in Canada, which also highlighted women at different life stages with various skin concerns. For its U.S. campaign, it chose Tuxedo because of its understanding of the Vichy brand (which it has worked with for about two years). About 60% of Tuxedo's business is actually in the U.S., notes Dominic Tremblay, the agency's president and founder (who was previously general manager at L'Oréal Canada for more than eight years).
While in Canada, Vichy products are top sellers in drug stores, south of the border, brand awareness is below 5%,  says Catherine D'Aragon, assistant VP, marketing at Vichy. For its push there, the idea was to fit the middle ground between glamour-focused campaigns from brands like L'Oréal Paris and ultra-realistic, self-esteem-focused campaigns like those from Dove, she says.
Vichy is touting the idea of women being the best versions of themselves, through the French-inspired thinking of taking proper care of your skin early (by having an overall healthy lifestyle). "Forget Flawless" is also meant to bring some humour to the moments women have with themselves and remind them that they deserve better in the way they speak to themselves, D'Aragon says.