BBDO promotes Tim Welsh to new video role
As director of content production, Welsh will grow in-house post-production unit Ricochet and expand its video offering.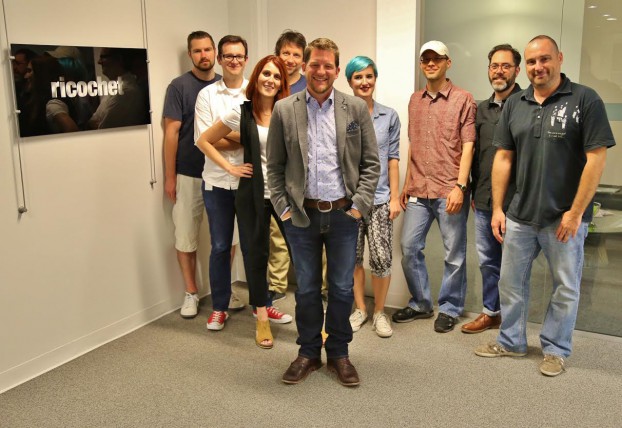 Tim Welsh (front), director of content production, with the other members of BBDO's Ricochet production team.

BBDO has promoted Timothy Welsh, currently SVP, account director, to director of content production, as the agency looks to expand its low-cost video capabilities.

In a new position at the agency, Welsh will be responsible for expanding BBDO's existing in-house post-production unit Ricochet and positioning it to do more video-based content creation. He will also lead the creative and client processes, infrastructure and expanding its production network for assistance on other areas of production, like shooting.

Ricochet, which only exists in BBDO's Toronto office, has been around for about ten years, focusing mostly on the "back-end" of production for things like editing and special effects. Dom Caruso, president and CEO at BBDO Canada, says the agency is looking to build on Ricochet's existing capabilities and turn it into a place that will produce more low-cost video content from start to finish, which will complement the higher-end video content the agency traditionally produces.

"One of the amazing things people couldn't have predicted a couple of years ago was how much video people want to consume, and it's predicted to explode by 50% in mobile especially," Caruso says. "With that huge pipeline to fill, our clients will have a need at different budget ranges, including low-cost video."

First joining BBDO in 1999, Welsh comes from the account management side but in recent years has begun to assist in the business management of the agency's creative work. Caruso says this gives him a handle on both client needs and how the creative department works across all different platforms.

"If a client says they need five videos for $30,000, that re-engineers everything, from the kinds of concepts we need to come up with to how things are bid to how many rounds of revisions a client gets to approve it," Caruso says. "That's not a small tweak, it's a dramatically different way of working, so we needed someone who could spearhead that process and have a good handle on it from beginning to end."

Ricochet currently has 11 staff members. Caruso says the intent is to expand based on client need, but wouldn't be surprised if staff count were to double within the next two years.