Rickard's gets deep
The beer brand looks to those chats in the pub for its new creative platform.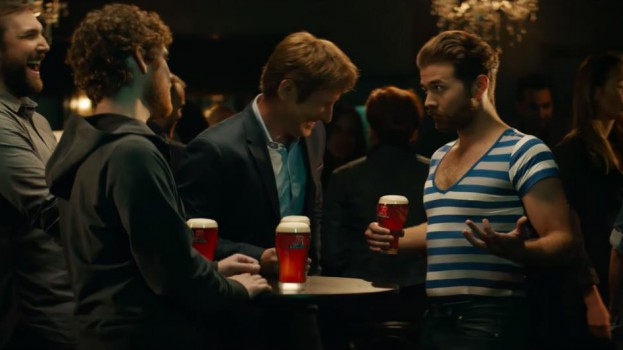 In a market full of high-energy, party-fueled beer spots, Rickard's wants to be the brand for people looking for a more relaxed night with a new creative platform, led by "The World's Deepest Conversation."

In a spot produced by Rethink, a group of friends appear to be embroiled in a deep, intense conversation as they grip their pints of Rickard's Red, until the spot is flipped on its head and the conversation is revealed to be a rib on one group member's fashion decision.

MEC is handling the media buy on the campaign, which features 15- and 30-second versions of the spot running on TV and is being promoted through social.

The new "Taste Worth Talking About" tagline is part of a new creative platform for Rickard's, although the voiceover, pub setting and humorous tone will be familiar to those that have seen the brand's "Rules of the Round" series of online videos.

"'Rules of the Round' was more of a social play for Rickard's, but they both come from the same idea of Rickard's being born in the pub and its ties to pub culture," says Mark Scott, associate creative director at Rethink. "Humour goes a long way with our audience, but this also shows the range of conversations that can happen. It starts as a serious conversation that turns into taking the piss out of your friends, which is fun but is also a time-honoured tradition in bars, so it's a relateable moment while also being a little more sophisticated and smarter."

Eric Goulet, marketing manager for Rickard's at Molson Coors Canada, says the idea behind the new platform is to focus less on targeting a particular demographic and more on the occasion of sitting down and catching up with friends in a relaxed, casual atmosphere.

While past Rickard's work has focused on the "family" of different Rickard's products (including Rickard's Blonde, White and Dark), Goulet says the idea with the new spot, the brand's first on TV in a number of years, is also to zero-in on Rickard's Red, its flagship product that launched the brand in Canada. Goulet says the challenge for Rickard's is the same many other beer brands are facing, which is breaking through the clutter in a category that is becoming increasingly crowded, and it's addressing that by highlighting what keeps Red different from others.

"We wanted to focus on what's special about it and what consumers know it for," he says. "Even with our other products, or as we innovate more and bring more beers to market, we still want to adhere to the principles that defined us through Rickard's Red."

Scott says Rethink also has other concepts for spots that could take the platform in a number of different directions, based on the feedback to the first spot.

"It's a super simple approach, and no one else is owning that 'conversation' space, which is great one for Rickard's to play in and own," he says.