Irving Oil goes big for summer
After a major investment in its retail locations, the gas station chain launches a contest for its largest campaign ever.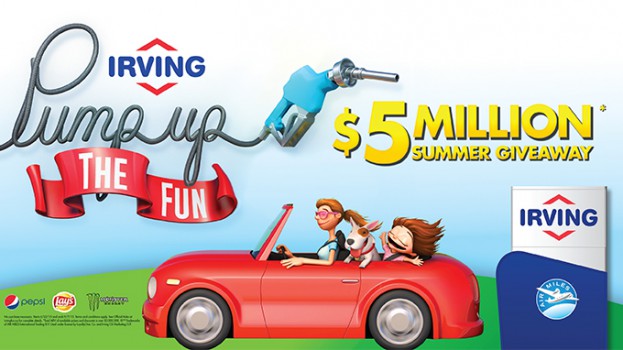 East Coast gas retailer Irving Oil hopes "Pump Up The Fun," its largest promotion ever, will make drivers think of fun and value, two principles on which it is basing a plan for retail expansion.

Led by creative agency Brad, the contest will see anyone that visits an Irving Oil retail location receive a special game card and ticket with two stickers that give them the chance to win instant fuel discounts. Those who don't win instantly can save their stickers to win a grand prize – which include Ford Escape sport utility vehicles, Can-Am Spyder ATVs or Sea-Doo jet skis – or enter a pin code online to win daily prizes like gift cards or free gas for a year.

The campaign is being promoted with radio ads, out-of-home and a digital play that includes social media and a dedicated microsite.

The promotion is the largest the chain has ever done on a number of fronts. It has the most prizes (with Irving investing $5 million into the rewards), the longest (the contest launched on June 22 and will run until Labour Day) and is also the first to stretch across its entire retail network, which includes locations in Atlantic Canada, Quebec and New England in the U.S.

Janelle Shillington, brand director at Irving Oil, says previous promotions had been primarily designed around regional loyalty programs, but it is moving to a network-wide contest as the company looks to enhance and expand its current retail network. Over the last two years, Irving has invested $100 million into its retail locations, and the contest looks to reinforce the retail experience that investment is looking to create.

She says the contest also looks to reflect the company's roots and the region it serves, with both the website and game card giving customers tips on summer destinations that are within driving distance.