Aldo gets inspired…by everything
The retailer's new fall campaign lets creative types express their inspiration through their fashion choices.
Montreal-based footwear and fashion accessory retailer Aldo's new "Inspiration Is Everywhere" campaign for the Fall/Winter 2015 season is recruiting some creative types to inspire its consumers.
The global campaign has engaged nine different creative personalities and models from around the world, including Korean TV host Irene Kim, U.K. DJ Will Power, model and musician Staz Lindes and New York creative Olu Alege. The personalities will be showing off what inspires their creativity in video, digital, print, out of home and social media, and how those things are reflected in their fashion choices.
In print, shots of the personalities by photographer Matteo Montanari are paired with one by Bela Borsodi of something that inspires their individual creativity, like travel, colours or a particular era of fashion like the 70s. Douglas Bensadoun, CCO at Aldo, said in a press release the images are meant to play off each other and reflect how the retailer is "a facilitator [and] co-conspirator" that helps its customers reflect their inspiration in their fashion choices.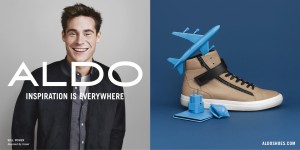 Others cast in the campaign include artist Phoebe Collings-James, director Sandra Winther, actress Fabianne Therese, dancer Joshua Thew and home improvement blogger Chris Nicholas.

Last summer, Aldo launched its "#PerfectPair" campaign, marking a shift in the retailer's direction from trying to be modern and provocative to being more personal and emotionally resonant for "fashion-engaged" consumers.

"Through our extensive consumer insights initiatives, we've learned that our customer finds style inspiration from ever-changing sources and is not beholden to the 'fashion establishment,'" said Erwin Hinteregger, CMO at Aldo, in a press release. "It was refreshing to uncover how fluid and organic inspiration can be, whether it's from friends, blogs, observations on the street, an art show, or their own style intuition. Our campaign this season aims to reflect their savvy process of how they link Aldo to their style-spiration."

In March, Aldo signed a deal to design exclusive footwear collections for Joe Fresh, set to launch in spring of next year.