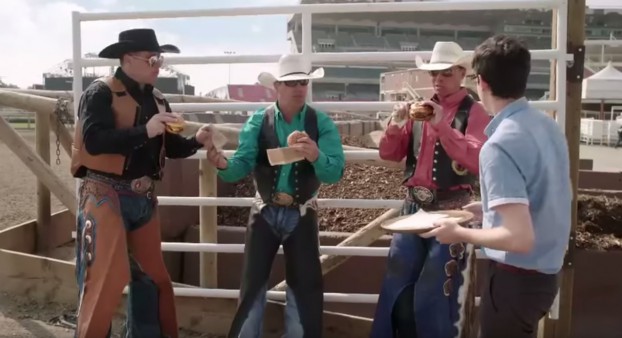 McDonald's is continuing its Canadian-centric campaigns with a push around its new Angus beef burger.
The "Mighty Angus" – created based on consumer taste tests – is the first new premium burger that the company has added to its permanent menu since 2012 (although it has had Angus beef included in limited time offers).
"We recognized a trend toward Canadian consumers demanding more beef in their burgers," says Chuck Coolen, senior marketing manager at McDonald's Canada. That "exhaustive" consumer research led to the decision to launch the "Mighty Angus."
The new campaign was filmed during last month's Calgary Stampede to show off the Canadian authenticity behind the beef (all of which comes from Canadian farms, mostly in Alberta). Along with good timing (filmed during a quintessentially Canadian event in summer, which is "burger time," Coolen says), the campaign is also capitalizing on the type of people who can "justifiably certify" good Angus beef.
The five-week campaign includes a 30-second TV spot (one in French, one in English), 15-second online videos, digital and social, and OOH. The TV and OOH creative was developed by Cossette, digital creative by Tribal DDB and OMD on the media buy.
Weber Shandwick also helped lead recent influencer events in Toronto and Calgary, which gave food bloggers and McDonald's "super fans" a behind-the-scenes look at how the burger is made, again touting its Canadian origins.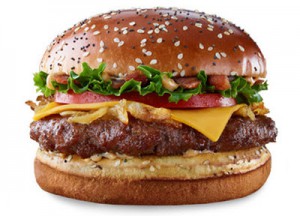 This isn't the first patriotic-looking campaign for the QSR this summer. In June, it launched its "Great Canadian Taste Adventure," with limited time offers like a lobster roll and maple bacon poutine. It also recently celebrated the McFlurry's Canadian origins with an animated spot about the New Brunswick town behind the treat.
In March, the brand also kicked off a series of ads all around the faces of its restaurants (both employees and customers).