RBC's fairy tale sending
The bank makes itself the hero in the magical land of e-transfers.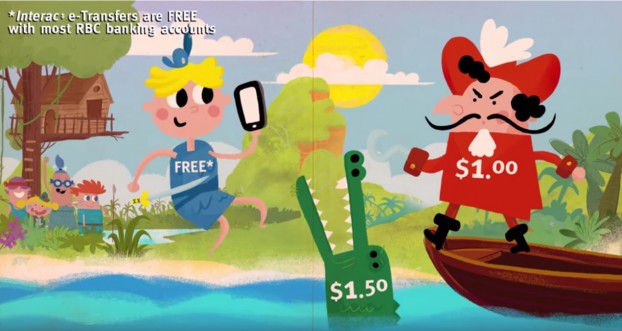 It would have been a lot easier if the Three Little Pigs could just transfer money to a carpenter to help them with that whole house situation, right? RBC sure seems to think so.
The bank's summer "#HappySending" social media campaign is all about positioning itself as the hero in the Interac e-transfer market, with banks fees charged by competitors relegated as villains (for example, Captain Hook represents a $1 fee).
Using popular fairy tales and children's stories for a series of animated videos, RBC is showing different uses for e-transfers that customers may have not thought of, all while touting that its accounts offer more free transfers than other banks. For example, in the RBC universe, the title character in the Princess and the Pea gives up her uncomfortable night pretty quickly, opting to e-transfer some funds and get herself an AirBnB.
The videos, created by GMR Marketing, are part of a social media contest (launched in mid-June and still currently running), where users can either retweet or share their own examples of "#HappySending" for a chance to win $1,000. The posts are getting some paid support, with M2 Universal on the media buy, but the campaign is mainly organic, says Vanja Gorazi, senior manager of electronic payments at RBC.
While he couldn't share specifics yet, engagement from the campaign has been very good across ages and demographics, Gorazi says. The target for the contest and videos was intentionally broad, since e-transfers can be used by anyone and the point was to show its different use case scenarios in a fun way.
"It's especially fitting for the social media space to have something unique like that," Victoria Chin, marketing coordinator for payments and digital and RBC adds about the fairy tale theme. "People tend to think of specific ways they use e-transfers, so putting it into this fairytale concept, it allows people to think about it outside the box."