Eva's Initiatives gets a fresh start
The organization for homeless youth launches its first ad campaign, focused on its role in helping build futures.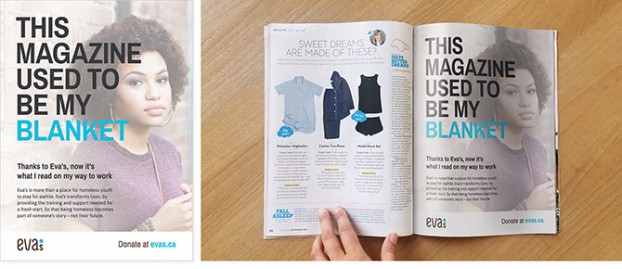 Eva's Initiatives hopes to differentiate itself from other youth homeless shelters with "Fresh Start," a campaign that focuses on the future homeless youth can have if they receive the right help.
Mirum's Toronto office helped create the campaign, where the message of each ad is tied directly to its medium, and how things we use every day are seen differently by those who have struggled with homelessness in their past. Street-level ads bear messages like "This used to be my living room" and print ads say "This magazine used to be my blanket," but the focus is on putting those stories in the past as a way to show homeless youth are not a lost cause, as long as they can access the support they need to get on their feet.
There are also videos running on screens at Yonge-Dundas Square telling true stories of how youth ended up living on the street, from addiction to getting kicked out of their house after coming out to their parents. Those videos also play when you land on Eva's re-designed website, which was also handled by Mirum as part of an overall new branding. Media planning for "Fresh Start" was handled in-house by Eva's, utilizing discounted and donated media from Adapt Media, Captivate Media, Clear Channel, Horizon Travel & Lifestyle magazine, NewAd Media and Rogers Media.
Eva's Initiatives was founded in 1994 with the opening of Eva's Place emergency shelter in the north of Toronto, and has since grown to include Eva's Satellite downtown and the Eva's Phoenix transitional shelter. Although it has maintained community support and growth over the years, this is the first ad campaign in the organization's 21-year history.
"We had a really loyal group of supporters that was funding everything we needed," says Sarah Barker, director of marketing and communications at Eva's Initiative. "Previously [our work] had been promoted through word-of-mouth, and that's still happening, but with the way the non-profit sector is evolving, we were finding that we weren't really gathering a lot of new donors.  We knew we needed to bring in more people and something public-facing was the best way to do that."
Leading into the campaign, Eva's conducted research with the youth they serve, volunteers, staff members, donors and others in the sector in Toronto. It found many other groups were focusing on the problem of youth homeless and the reality of what living on the street was like, leading to high awareness for the issue among the general public. But awareness was lacking about who was doing the work to help these youth and what the general public could do to help, and the organization focused on its role in that process to differentiate itself.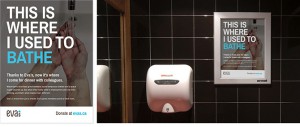 Barker says the target for the campaign is 35- to 50-year-olds who not only tend to have a little bit more disposable income to donate to charitable causes, but who are more likely to have kids in the 16- to 24-year-old age bracket.

"A lot of youth may not of heard of us and might become aware of our services through these ads, but that's not our challenge," she says. "We are at capacity every night, we have waiting lists, and we're preparing for increased demand from youth. We need to engage more donors with work we're doing, and this campaign is the best way to do that."