JWT Canada adds six senior roles
New CDs, strategic directors and leaders in experiential and content marketing contribute to a year of growth at the agency.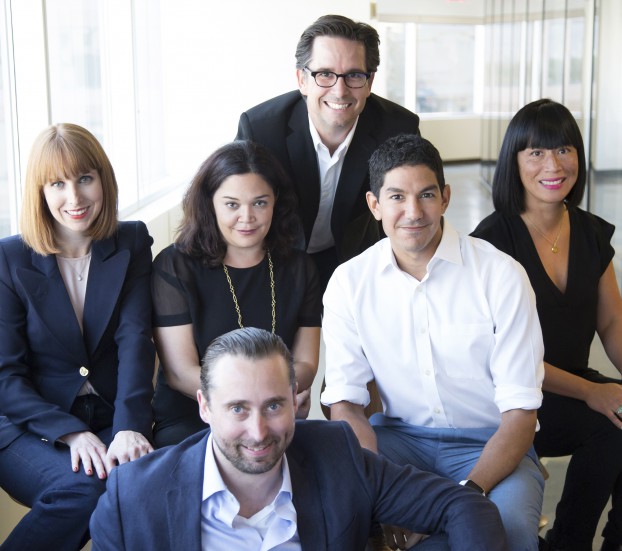 JWT Canada's newly-hired leaders: Martin Lachance (back), Sarah Stringer, Rebecca Brown, Ari Elkouby, Yen Chu (middle row) and Ian Westworth (front).

JWT Canada has wrapped up a hiring spree in the first half of 2015 with six new senior hires, including a pair of creative directors.

In the creative department, Ari Elkouby is now VP and creative director and Yen Chu has been hired as creative director of design. Elkouby joins from Zulu Alpha Kilo, where he spent the last three years, and has held senior roles at Proximity Canada and Fallon in the U.S. Chu, who joins after stints as CD at design and branding firm Clear Space as well as at Parcel Design, will take over duties previously handled by head of art David Taylor, who has gone on a one-year travel sabbatical.

JWT has also picked up Martin Lachance as VP of experiential marketing and Rebecca Brown as executive director of content marketing in newly-created positions. Lachance was previously a partner at Wasabi Atelier Experiential in Montreal, an experiential agency he co-founded more than 16 years ago. Brown has previously been an executive director of content and strategy at Engagement Labs and Entrinsic.

"[Their] appointments come as a result of our continued success in leveraging [experiential and content marketing] for our clients, and our growth has led us to formalize these capabilities," says Susan Kim-Kirkland, president and CEO of JWT Canada. "These are areas that are becoming increasingly important to keep the brands we love newsworthy and in the spotlight. They reflect the way people live their lives and this forces us to figure out interesting ways to engage authentically."

On the strategy side, Sarah Stringer has been hired as VP and strategic planning director. Stringer joins from KBS Toronto, having joined Captial C in 2012 and staying on following its merger with KBS last year, where she was most recently director of strategy. Prior to coming to Toronto, she had 10 years of experience in New York working at Ogilvy, Bartle Bogle Hegarty NY and What If.

JWT has also hired Ian Westworth as a strategic planning director. Most recently an independent consultant, Westworth has over 17 years of experience at agencies including Leo Burnett, Grip, BBDO and Bartle Bogle Hegarty NY.

"We are seeing a surge in clients putting even greater value on our ability to lead integrated [strategy] solutions," Kim-Kirkland says, adding that its investment in strategy has included a stronger measurement and analytics practice. "I think the rapid proliferation of so many digital channels and ways of engaging over the years has resulted in situations where lots of content and assets are being produced 'just because.' Now everyone is much smarter. With our clients, we want to engage wisely and avoid creating stuff that just becomes white noise."

The new senior hires come following a period of growth for JWT, which has seen a significant number of new hires in the first half of 2015, something Kim-Kirkland attributes to a mix of organic growth, new business wins and investment in the agency's future.