Ford tries a new perspective
From axe-throwing to car-bowling, the auto company wants drivers to embrace their adventurous sides.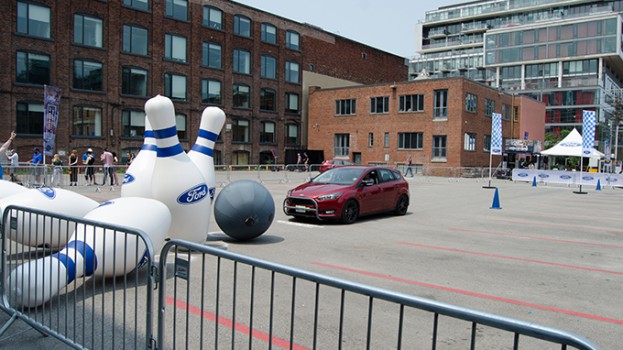 This story appears in the September 2015 issue of strategy.

Ford Canada thinks trying something new is a good thing, and it hopes Canadian drivers will feel that way when it comes to its cars.

Ford has been the top-selling automotive brand in Canada for the last five years, with last year's sales being its best since 1997. But even though it sold over 229,000 trucks last year, car sales barely topped 62,000, a 9% drop from 2013. Despite having top-sellers in trucks, utility and sports cars, Ford sees itself as a challenger brand in the car category and is looking to break through in the B- and C-sized car segments where its Focus and Fiesta models compete.

"It's a very competitive segment, with 20 competitors in the C-car segment and approaching 15 in B-cars," says Peter Jansen, marketing communications director at Ford Canada. "So to get noticed, you have to do different things that showcase what the cars are all about."

To do that, the "Try More" campaign partnered Ford with local businesses in Toronto, Montreal and Vancouver ranging from axe-throwing and circus school to improv comedy and salsa dancing. After going to one of the partners or trying something new on their own, consumers could upload photos or videos from the experience to Ford Canada's Facebook page to enter a contest. Winners were flown out to the "Ultimate Try-Athalon" in Montreal, featuring even more activities, including being taken out on a racetrack by a professional driver.

Ford has also held pop-up "Try More" events in the three cities, intercepting people on the street to get them to do activities provided by the partners, or using the cars themselves, like driving a Fiesta to knock down giant bowling pins or recording a lip-syncing video with its sound system.

Jansen says brand perception is Ford's biggest hurdle in the car segment, and "Try More" is meant to show the design of its vehicles has gotten more adventurous. As much as history has been a strength for the Mustang, it has been holding back cars like Focus, even as its design has been updated with new tech like parking assist cameras and the Sync digital entertainment platform.

"If you talk to an individual who is not a Ford driver and you ask what cars we have, their perception is of the Focus from the prior generation," Jansen says.

Typically, Ford has targeted different demographics for each car size, such as younger first-time buyers for smaller models like the Fiesta. But since "Try More" is covering the entire car segment, its target was kept intentionally broad. The activities also included things as simple as trying oysters or getting on stage at an open-mic night to complement the more adventurous experiences.

"In the TV spot, we used non-automotive examples to break through the clutter of other ads," Jansen says. "It begins by showing the euphoria of a kid going down a slide for the first time. The whole 'Try More' notion is based on a consumer insight that all people, by nature, are curious and like to try new things and they feel richer for having done so."

"Try More" was promoted via social, TV and OOH targeting urban centres where Ford saw high interest in B- and C-sized cars. Creative was handled by Blue Hive with the experiential events done by Bond. The campaign ran this summer, but Jansen says the idea is to keep bringing more activations, events and creative going into 2016.