Tank wins Reitmans
The agency will lead creative and strategy as the retailer looks to rejuvenate its brand with a new national spokesperson.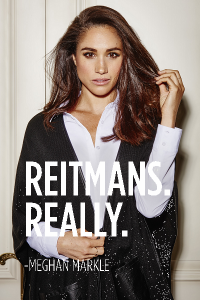 Following a competitive review involving multiple agencies, Reitmans has selected Montreal's Tank to handle all strategy and creative as it prepares to "rejuvenate" the brand in a competitive market.

The assignment is centred on the Reitmans brand and will not cover the other stores the company owns, such as Addition Elle, Thyme Maternity or RW&Co. The brand has previously worked with Taxi and Marketel.

As part of the announcement, the retailer named actress Meghan Markle as its new national spokesperson. Best known for her role on Suits, Markle has also become something of an icon in the fashion space through her lifestyle site The Tig, social media accounts and appearances commenting on the latest trends on programs like The Today Show. Markle is also a UN Goodwill Ambassador and recently appeared in a campaign for UN Women.

Reitmans wanted an "influencer" who can appeal to the retailer's wide customer demographic through both social media and traditional TV presence, but also provide an authentic connection with the world of fashion.

"We wanted someone with a point of view," says Jeannie Vondjidis-Miller, VP of marketing and visual presentation for Reitmans. "It wouldn't have connected with the brand if we had gotten an actress with no interest in fashion or style, it'd just be slapping a face on. She's sincere and gets the everyday woman and she loves fashion."

The new campaign featuring Markle, under the tagline "Reitmans. Really." will debut in late September. Marc Lanouette, president of Tank, described it as "a full 360 campaign" with creative on all platforms, including TV and print in both English and French, that will centre on the retailer's "fashion confidence" platform, with new, "fresher" collections.

Mid-priced fashion has been a competitive market in Canada recently, with competitors like Jacob and Mexx closing their doors and the Reitmans-owned Smart Set in the midst of shutting down its retail locations.