New York Fries' golden poutine touch
A contest promoting a new bacon poutine looks to drive meal sales following the QSR's sale to Cara.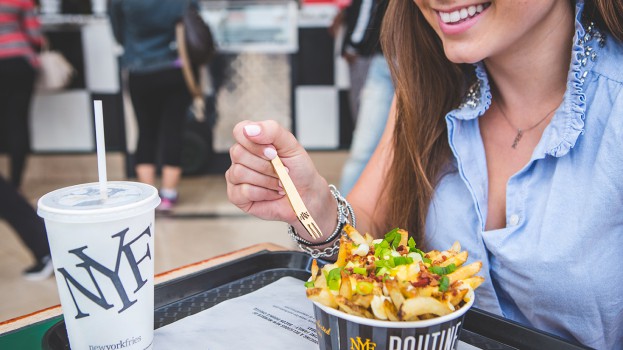 New York Fries is hoping a chance at winning a shiny little fork will get Canadians interested in a new, bacon-loaded poutine to keep up its momentum in the category.

This Saturday, International Bacon Day, New York Fries will give away 108 24-karat gold-plated poutine forks and a free order of its new Bacon Double Cheese Poutine across all of its stores to the first person to order the meal – provided they are able to do so in Pig Latin.

"We've always taken a cheeky and fun approach to whatever marketing we do and can afford," says Jay Gould, co-founder of New York Fries. "We're a national brand, but we don't have huge reserves in the marketing budget to be on TV or radio all the time or to do a big cash giveaway."

Earlier this week, New York Fries launched a radio campaign, featuring the voice of longtime spokesman Gordon Pinsent, promoting the addition of Bacon Double Cheese Poutine to the restaurant's menu. New York Fries has been selling poutine for 23 years, and since 2011, it has expanded its offering with butter chicken, braised beef and pulled pork varieties. The restaurant has been testing the new bacon-and-cheese addition in select locations over the last six months.

Creative on the radio campaign was handled by Juniper Park, with media handled by Media Experts.

Poutine has been a key element of New York Fries' focus on driving more sales in the meal category to shift consumer perception that it is only a snack destination. Before New York Fries launched its new poutine varieties, Gould says meals, which also include hot dogs, represented around 35% to 45% of its total sales. Since focusing more on that category, he says same-store sales have grown by an average of between 8% and 9% every year, with meals now representing nearly 65% of sales.

On Tuesday, it was also announced that New York Fries had been acquired by Cara Operations, which owns restaurants including Harvey's, Swiss Chalet, Kelsey's and Montana's. Gould, who will hand over operations to Cara once the deal closes, will continue to own and run 10-year-old burger chain South St. Burger Co, which was not included in the transaction. The deal is expected to close this fall, and will be led by long-time EVP Warren Price.

There are currently 120 New York Fries locations within Canada and 36 operating internationally. Cara, which had its IPO in April, acquired New York Fries to increase its presence in shopping centres, according to a press release.