There are hackers among us
Showcase promotes Mr. Robot by hijacking outdoor screens and promos for other TV shows.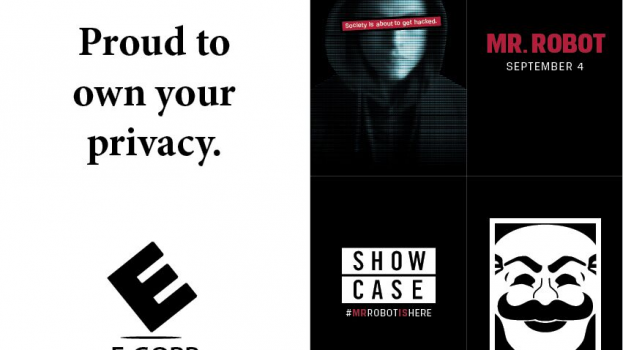 The folks at Showcase can thank Julian Assange for creating a global appetite for, and interest in, drilling down in cyberspace.
For the series premiere of Mr. Robot, the channel has been running a cross-platform media campaign inspired to grab eyes and hone in on fears about cyber-hacking. The channel has planned numerous shock-driven executions to pair the series' issues with real life concerns ahead of its Sept. 4 premiere. The cyber-thriller follows a young online-engineer who crosses paths with an underground hacktivist group whose leader (played by Christian Slater) wants the engineer's help in bringing down a powerful multinational company.
The national campaign is aimed at the channel's 25- to 54-year-old target demographic with specific activations focusing on a younger demo. The media mix includes  OOH, cinema and on-air promotions. On-air promos began airing in August across Shaw Media channels, with a primetime focus today and tomorrow.
Creative and media for the campaign was developed in-house.
The cyber genre, which tends to skew younger, has also inspired Showcase to execute a Fan Expo activation (with an appearance and autograph-signing by show starrer, Christian Slater, film posters and black Mr. Robot hoodie giveaways).
Pre-launch publicity has focused on a series of stunts in high-visibility locations like the Yonge and Dundas Square where a simultaneous digital interruption takes place across five digital boards every hour. One example is of a member of the series' "fsociety" of hactivists, a network of underground hackers that are led by Christian Slater's character, appearing to hack into a regular TV promo. Showcase timed the interruption to happen across all its channels at the same time to make it appear like viewers TVs have been hacked. Similarly, the stunt is part of the pre-roll that is being rolled out in cinemas in the GTA.
OOH executions for the GTA include posters in 60 locations promoting E-Corp, the fictional company alongside images of Mr. Robot. Additional creative is also running across bus kings and streecars.
Post-launch promos are developed around forthcoming episodes with online promos aimed at both a wider audience and also targeting the online community of gamers.
Mr. Robot was also part of Showcase's strategy to roll out three of its fall season shows ahead of their premiere dates to give viewers access to the first episode across 13 platforms in advance of the television premiere. The other two shows were Lost Girl and Continuum.
From Media in Canada