Not asking is always ridiculous
The Canadian Women's Foundation uses everyday situations to educate Canadians about the proper way to get consent.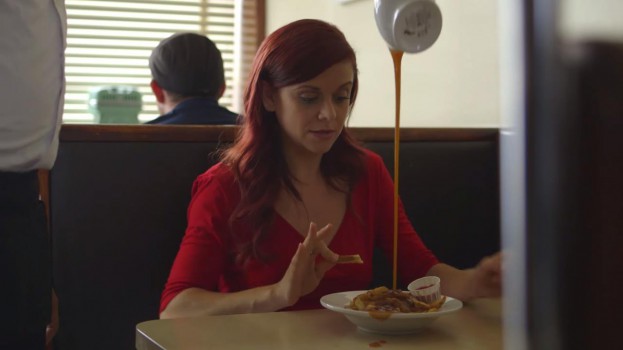 The Canadian Women's Foundation is hoping to educate people on the proper way to give and get consent with their partner by showing what happens when that isn't done in their day-to-day lives.
The "Get Consent" campaign, the first from the foundation to focus solely on the topic, comes with a PSA showing what happens when people in everyday situations – from getting a haircut to eating at a restaurant to booking a band for a party – fail to get proper consent.
The PSA will be shown on video screens in malls, offices and TTC stations, as well as in-cinema. "Get Consent" will also include national radio spots, a social media push and a new microsite featuring facts from a recent survey commissioned by the Foundation and ways to support its work through donations or volunteering. The campaign was handled by Edelman, with support on video production from Asymetric and Apollo Studios. Discounted and donated media came from Rogers, Pattison Onestop and Cineplex.
Natasha Wilson, director of marketing and communications at the Canadian Women's Foundation, says a need to focus on consent was identified following a survey it conducted in April. The results showed while 97% of Canadians believed consent is required between people on a casual date or between new partners, 11% believed it wasn't required for long-term partners and 12% believed it wasn't required between spouses. More startlingly, over 66% of Canadians also didn't understand the proper definition of consent as being positive and ongoing as part of a two-way conversation.
Many PSAs around issues of sexual violence, abuse and consent, including a recent campaign from the Ontario Government and even the Foundation's past work, tend to be serious and jarring to make the harsh realities of these issues apparent to Canadians. Wilson says the humorous tone of the PSA is not meant to make light of the importance of getting consent, but to show how "ridiculous" it is when people in everyday situations fail to do so properly.
The tone is also meant to resonate with as broad an audience as possible, as is the media strategy. "Get Consent" is the first time the Foundation has taken this broad of a multi-platform approach for its annual campaign.
"It's a creative and strategic challenge to develop an awareness campaign that resonates with all audiences," Wilson says. "But we needed to reach all Canadians because our hope is not just to push this information out. We want to offer an opportunity to learn about the issue and engage with the campaign so people start a conversation about consent in their communities, because this is a conversation that will grow and continue until behaviours begin to change."