NY Ad Week blog: The path to sustainable advertising
Publisher Mary Maddever on the quest for a kinder, gentler Minority Report-less future.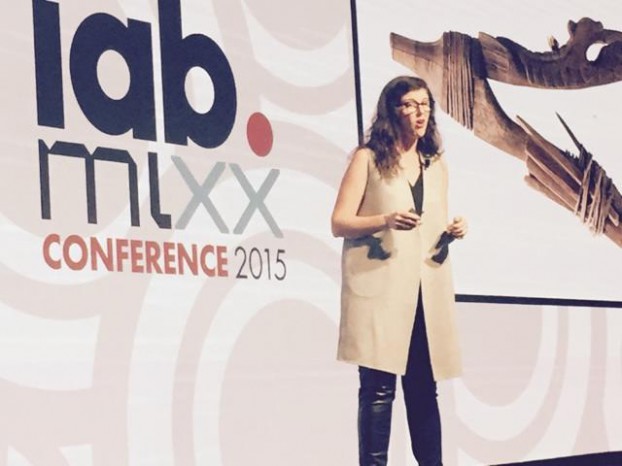 Pictured: Margaret Gould Stewart, director of product design for Facebook, speaking at the IAB MIXX conference.
It's complicated.
The simple, old client-agency-supplier relationship has morphed into a complex environment of multiple partners providing specialized services (and a million ways to capture and use data), while everything from platforms to agencies and brands are getting into media companies' content space.
So Ad Week has more issues to tackle. And at the IAB MIXX conference, nestled in the thick of Times Square's advertising bustle, a big one is – ironically – ad blocking.
Know your audience
Andy Markowitz, GM of Performance Marketing Labs at General Electric, describes marketers' reaction to the new ecosystem as a deer-in-the-headlights one. He also describes the new landscape as the world's biggest piñata: when you break it open, you want to find data.
As an example of how much of it is out there, and how well it can be synthesized, Markowitz cited Crystal Knows, which builds profiles based on social data. He mentioned it within the context of "know your audience" and an effective use of data.
Markowitz says "a massive strategy void exists." Digital is a quest to reach people with personalized and customized experiences, and the opportunity is to solve customer problems and create value for them.
Beyond the typical "connect everything" admonition, in these ad blocking-obsessed times he cites "race for permissions" and "know your audience" as goals that are relevant to getting out ahead of it – "great content finds your audience."
He also points to the "importance of owning your own data" and not giving away the farm when you partner with someone. For instance, GE uses LinkedIn within Marketto, but keeps its own data unique. And for the data that's out of reach (products in consumers' homes), GE turned to IoT (Internet of Things), partnering with Evrythng to get intel on customers and use.
He also says that to be the disruptor, you need external idea injections, which is why GE and Unilever have venture programs inside their organizations.
Earning the right to reach consumers
Margaret Gould Stewart, director of product design for Facebook, also pointed to listening to others as the solution. She cited the case of Lego being on the decline back when play shifted to digital toys. She says, at the time, it was insular and protective of its design – and since it's shifted to openness and ideas from outside, it's surpassed the competition.
Gould Stewart likens what many advertisers are doing these days to blast fishing – they detonate bombs and get a lot of fish, but it's not sustainable.
Using an ancient wooden fish hook designed only to catch specific large halibut as a metaphor of the mind shift that needs to happen, she asked the audience "What would sustainable advertising look like?"
"Are we full of respect for the people we want to reach?"
The problem of tension between short and long-term rewards is set to further escalate, as the pace of the shift to mobile is staggering.
In the U.S., mobile accounts for 25% of consumer time and 16% of ad spend. So as the mobile ad presence is poised to catch up, she asked the audience to ponder "what have we done to earn the right to be in people's pockets? What is our halibut hook?"
Essentially, it's not about us, it's about the customer, and since mobile is a global tectonic shift, she says brands need to design for people where they are. "Yet we design for us," she says. For example, the cost of data plans is a big barrier in some markets, so people get around it by using no-charge missed calls as Morse Code for saying "I'm online let's chat" or ordering products. And businesses that use "missed call" in their ads are welcoming contact from these consumers.
Gould Stewart says there's huge potential in the new mobile economy to build value for customers, but the industry has to "design not just for people, but with people."
"Twitter didn't plan to develop hashtags,"  she says. "Facebook didn't intend to become the most powerful 'happy birthday' engine in the world."
To recognize the opps she says: "You look for desire paths. Tech gives us the opportunity and responsibility to listen really intently." She says many examples of Facebook's advancements were inspired by design paths of observing people's usage. With the 'Safety Check' feature, for example, the team took its major learnings from the 2011 earthquake and tsunami in Japan.
In addition to the "need to constantly be listening and learning from people outside our orgs," her last tip is "Design with respect for all."
"What if the opposite of Minority Report is true? Consumers want control  – which is why we added 'Ad Preferences' – so you can go see your targeting categories and edit them."
Her final advice: "Find your own halibut hook."
The future is native
Yahoo CEO Marissa Mayer's investment into moving the platform deeper into the premium content space via niche magazines and deals has halibut hook audience potential.  And the company is listening and learning. Yahoo acquired the largest mobile analytics company – Flurry – and sees 10 billion sessions every day.
Mayer (pictured, right) says almost 300 million consumers engage with apps over 60 times a day – and that of the 20% of time on digital spent watching video, half is on mobile. "Native apps is a key strategic bet we made and apps have won – 90% of time is spent on apps not a browser."
Mayer says native ads are the best way to monetize this content strategy, since "they get three times more attention and 50% more emotional connection." Plus, "Ad blockers will push more ads to be more native," thereby delivering value to advertisers and viewers.
So the new problem has the same solution as the old problem? Know and respect the audience, and deliver something of value.
cheers, mm