Brands of the Year: Epic Meal Time is no longer the little guy
How Harley Morenstein and crew have grown to be Canadian leaders in the YouTube space.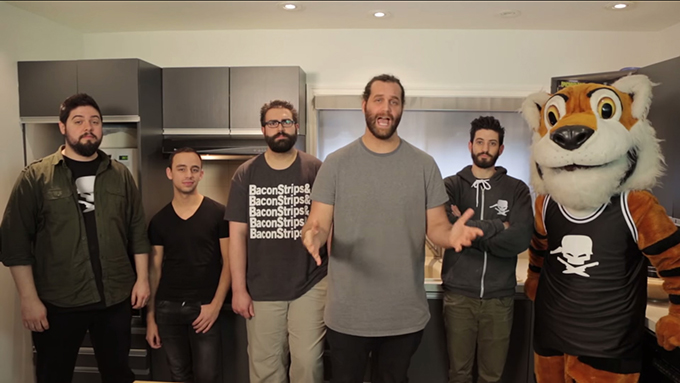 It's that time again. We're rolling out our 2015 Brands of the Year, so make sure to check back during this week as we take a look at the brands that had a big impact on Canada this year.
This story appears in the October 2015 issue of strategy.
Despite the success of Epic Meal Time, co-creator and host Harley Morenstein still occasionally finds himself in meetings with people who likely didn't watch a full video, but must have approached
him based on subscriber and view numbers.
"After that, I'll get pitched an integration for a fruit or canned corn. And I have to say, 'No, fruit and vegetables don't work, we're the guys that sell a T-shirt that says, 'Fuck salad,"" he says.
The idea for Epic Meal Time, a YouTube comedy show based on building outrageous, meat- and calorie-heavy meals, came in 2010 when Morenstein, at the time working as a substitute teacher in his hometown of Montreal, was filmed by friend and co-creator Sterling Toth eating a reconstructed Wendy's hamburger made of six beef patties and 18 strips of bacon. The series began in earnest with a follow-up featuring a pizza topped with products from multiple fast food restaurants, all while an on-screen counter kept track of just how many calories the meal had with each addition.
Today, Epic Meal Time has uploaded over 400 videos that have been viewed over 800 million times (over 100 million from Canada) and is nearing seven million subscribers. It has since expanded with new online show formats like cooking competition Epic Chef and instructional show Handle It. In 2014, the group produced 17 episodes of a televised version of the format, Epic Meal Empire, for A&E's FYI network.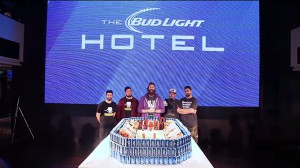 The team is working on multiple new food-related show formats for its channel and has announced Inventorprise, previously Epic Tool Time, which takes the idea of over-the-top creations out of the kitchen and applies it to creating gadgets out of everything from pickup trucks to selfie sticks. The team has also launched a gaming channel, with Morenstein and others on the team regularly live-streaming as part of YouTube Gaming.
Like most in the YouTube space, Epic Meal Time's success has been built slowly on a combination of word-of-mouth and a unique concept. Morenstein and his Epic brethren have done a few things to build out the brand over the years, including a line of apparel (mostly t-shirts) and a cooking set, and appearances on talk shows and even in movies (like Kevin Smith's Tusk).
It's mainly been in the past year that the growing number of subscribers, views and formats have also led to more interest from companies to do brand and product integration. In 2014, U.S. food company Hormel signed a one-year deal to have its Black Label brand be the official bacon supplier for the show, one of Epic Meal Time's first brand integration deals that has since been renewed for another year. At the time, Morenstein expressed little desire to pursue other brand opportunities, which changed when Epic Meal Time was able to do so in a way that was natural and fit the format. Since then, Epic Meal Time has worked with Wendy's, Kraft, Bud Light and Hamburger Helper.
Here at home, Epic Meal Time made a video for Taco Bell Canada promoting its Quesarito that included the QSR's tiger mascot and the winner of a fan contest in the episode. But they did so while cracking jokes about both ("Who's this guy?" "That's the tiger handler, I bet.") and making their own "epic" quesadilla-burrito combination.
And it's not just food: the team has worked with Sprint, Holiday Inn and Nissan. To promote Ubisoft's pirate-themed Assassin's Creed IV videogame, they did a video dressed as pirates on a cruise ship.
While it seems working with bigger companies would result in more attempts to rein in the show, these partnerships have instead created more opportunities to engage with fans, and in bigger ways.
"It's a cooking comedy show, so to just show a clip from a pirate videogame would put someone off," Morenstein says. "But those bigger brands mean we also get a bigger budget to dress up like pirates and do the show on a ship. That lets us give them a much bigger episode and find a way to make something our audience will appreciate. But if working with a brand will compromise our brand, I'm still totally comfortable turning something away."
Morenstein says the tide has been shifting to better brand relationships, especially over the last year. More companies are approaching him with awareness and respect for what Epic Meal Time represents, something his team repays to its partners.
"The people we are seeing in these meetings are getting younger and younger," Morenstein says. "If they know what we're about and our audience, the last thing they want to do is tell us how to do Epic Meal Time because that's why they come to us. If they offer us that, the last thing I want to do is compromise someone else's brand integrity. We can take out all the swearing or focus less on the calorie counter because we understand what maintaining your brand means ourselves."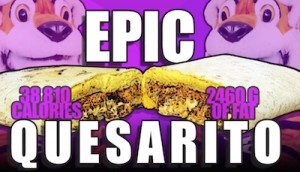 Epic Meal Time was one of the early members of multi-channel network Collective Digital Studio (CDS), which launched in 2011 and opened a Toronto office in the spring.
The benefits of joining an MCN like CDS range from copyright management, monetization and establishing brand partnerships to promotion and access to production resources, something that can be vital for creators, who are often individuals or small teams working on their own, like Epic Meal Time.
Jordan Bortolotti, EVP of Canada at CDS, says despite demand from Canadian brands for Canuck creators and the fact that they are earning thousands (if not millions) of views on every piece of content they create, many brands are still hesitant to work in the YouTube space. Morenstein has been a trailblazer in terms of bridging that gap.
"Harley and Epic Meal Time have done a huge service in terms of educating big brands and showing them it's not as risky an experiment as they think. They have a history in the space, which is important because they have this track record of success that can be pointed to."
Although Epic Meal Time debuted five years ago, they're veterans on YouTube. Bortolotti says Epic Meal Time has, due to its longevity and success on over 50 brand partnerships, made it possible for other creators to have the same kind of relationships.
It's not just brand relationships Morenstein has to consider though. Content creators on YouTube have to be mindful of their fan relationships, possibly more than in any other medium, given how socially engaged they need to be with audiences. Some can find it difficult to work in a brand's product, message and values in a way that doesn't feel forced, which audiences can be quick to pick up on.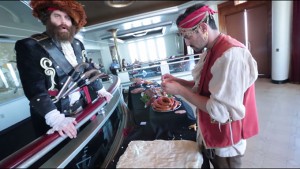 "[Epic Meal Time has] this innate ability to be more creative than their colleagues in the space," Bortolotti says. "They're not afraid to push the envelope within their format and to create new formats that are true to who they are. To be that versatile and find ways to push a brand message and still make it 'epic' gives you a lot of licence for how you can entertain people."

While most of its brand integrations have been stateside, the Taco Bell deal was likely the first of many Canadian integration opportunities. Bortolotti says companies here are eager to work with creators who understand the market and culture. Epic Meal Time's team of eight staff is split between Montreal and Ottawa, and they've always championed their roots.

Bortolotti describes Morenstein as "CEO, brand manager, director of marketing, host and creative director all in one," and having him work with CDS to bring more Canadian brands into the mix is something they should jump on now.

"We're proud of where we're from," Morenstein says. "We always talk about how we're Canadian in our videos. The idea of having more opportunities here and talking to the Canadian arms of these companies we are working with is a great one."