Expedia.ca tackles vacation deprivation
The travel site takes on Canadians' restlessness with a branded content campaign and contest.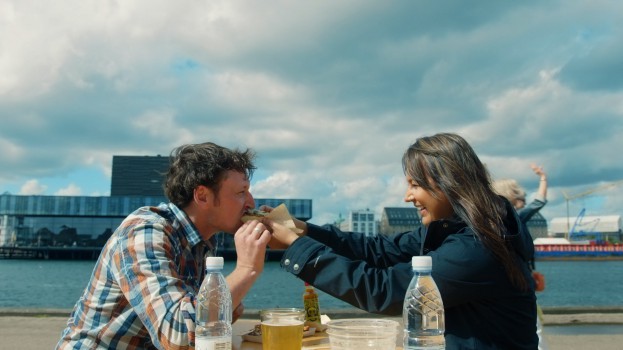 Oh, the places Expedia.ca wishes you would go.

This year alone, 10 million (that's right, million) vacation days went unused by Canadians who, on average, took only 15.5 of the 17 days they get from employers. This shocking statistical nugget is once again highlighted in Expedia.ca's annual Vacation Deprivation study, which the brand has been conducting since 2003.

It's the same problem almost every year. And, typically, the company shares its findings with the public through a PR push. But this year marks Expedia.ca's 15th year in Canada, so director of marketing Jen Callegaro and her team wanted to shake things up and challenged creative agency Grip to find a way to "humanize the data" in the study.

"We thought that [gifting a trip] would seem too obvious, but then we came back to the idea when we found a logical place for them to go," says Grip copywriter Trevor Gourley. In the end, the team found three pairs of Canadians — two couples, and a mother and daughter — on both sides of the country, and surprised them with a trip to Spain, Denmark and France (countries where people take the most vacation in a year).

"[The destinations] were the most obvious candidates to illuminate how important travel and vacation is," Gourley says of the campaign, called "Vacation Education," which includes multiple online spots that are being housed on YouTube.

Each of the pairs in the videos were found by a casting agent (who Gourley says works on shows like Big Brother and the Amazing Race) after hundreds of Skype calls with possible candidates, and then invited to participate in a documentary that was meant to "support" the study. Their surprise reactions were caught on camera when the brand handed them a letter telling them that they were being whisked away to discover a country where its residents take advantage of their vacation time.

"We've been telling the story of how much vacation [Canadians] don't take [for years], but we wanted to show exactly what Expedia can do about it," says Callegaro. "We wanted to really transform something that was previously numbers-driven and find a solution that's a real problem for people. Let's be a hero about it."

The content is currently being fed to viewers through Expedia.ca, YouTube pre-roll, retargeted ads, search and on social media (which was planned by Mediacom). Callegaro adds that there's a PR event coming up (led by Veritas) with different bloggers and influencers in the fashion and lifestyle channels being educated on the brand's anniversary campaign and hearing one of the video subject's story in person. There is also the possibility that the content could run a five minute spot on the Travel and Escape channel in the coming weeks, she notes.

Canadians are also invited to enter for the chance to be one of 15 people being gifted with a trip throughout the month of October. The brand is also holding a large sale to encourage others to travel, "[so] we helped these three [couples in the videos], a few more with our contest, and then we're helping everyone travel with the sale," adds Grip art director Julia Morra.