Brands of the Year: Sport Chek's better is here
The retailer continues to push the envelope, from its teched-out stores to its content strategy.

It's that time again. We've rolled out our 2015 Brands of the Year, taking a look at the brands that had a big impact on Canada this year. Be sure to check out our earlier looks at Desjardins, Epic Meal Time and Smoke's and keep an eye out next week for our look at some trending brands from 2015.

This story appears in the October 2015 issue of strategy.

It was about three years ago when FGL Sports CMO Duncan Fulton told strategy about his vision to transform Sport Chek into "the most digitized retail environment in the country and maybe even North America."
The bold goal followed Canadian Tire Corporation's acquisition of Sport Chek's parent company FGL, and was part of a plan to make it the superbrand among its sporting goods banners.
Digital has been a key part of Sport Chek's quest to rebrand itself and the journey beyond, which has included carving its own innovative path while becoming an "always-on" brand – from its approach to content and new stores to the overall consumer experience.
Since then, growth has been notable. In 2013, same-store sales increased 10.3%, with a 10.6% increase in 2014. As part of its evolution, Sport Chek identified a target demo – the achiever. It's that sports influencer in your network who you'll approach for advice on gear, and they make up about 20% of consumers (but they are responsible for 60% of sports activity sales). The brand learned only one in five of this cohort reads flyers, and it spurred what Frederick Lecoq, FGL's SVP of marketing and e-commerce, calls the "digitization of the business."
One of the steps in this process was transforming its traditional flyer by digitizing it. The advertising focus also shifted around 2012 and 2013, as Sport Chek started to become more content-driven, moving from a campaign-style approach to being constantly on, says Lecoq, equating the on/off, "lunch and leave" model to the old days of marketing. He gives the example of how only talking about hockey in August and September (with a back-to-hockey campaign) is illogical – players are at it all year.
Leveraging sports rally points to develop content can yield epic campaigns, but everyday content is a way to connect with consumers and create brand stickiness, Lecoq says.
"I know everyone is chasing the one million hits because it's good for the boss and it's good for the board," he says, (later adding it's not that he's disinterested in this approach) "but I think there's much more to [gain with] that everyday content."
At the time of the rebrand, the retailer wanted to shift from being transaction-driven to having a more functional and emotional drive. And it developed a sense of purpose with a new tagline and campaign by Sid Lee and Touché! PHD, which won a Bronze Media Lion in Cannes in 2013. "Your Better Starts Here" tapped into people's motivation for partaking in sports – looking or feeling good – and featured a high-profile TV spot with Sidney Crosby, plus messaging that targeted consumers at the start of their fitness routines, reaching them in places like lockers, gym entrances and tracks, as well as sport videos that served as pre-workout inspiration.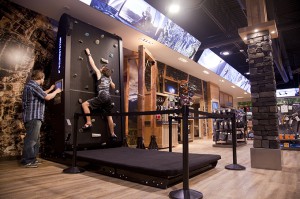 This core brand concept has been a touchstone since the relaunch, says Vito Piazza, president and partner at Sid Lee Toronto, which worked with the brand for four years.
"As they were making that shift to be more inspirational, it's given them guidance in terms of how the brand should come to life across not only the marketing channels but also in the physical and digital experiences," he says.
And while the brand has partnered with other big name athletes in addition to Crosby, like Steven Stamkos and Meaghan Mikkelson, a campaign like "All Sweat is Equal" tapped into the universality of sport and sport-based values, says Piazza, with a spot featuring a diverse group of athletes training. Similarly, the "What it Takes" Olympics campaign was about moving away from cheering for the athletes to how they can inspire people on their own journey towards self-betterment, he says. A spot highlighted how it takes things like "missing the party" and "words of encouragement" plus "attitude, work and innovation" to be an Olympian. (Both Sid Lee and Touché! worked on those initiatives.)
And it's the brand's new-found emotionality that has helped it take this position around the Olympics and its partnership with MLSE, Piazza says. "If they would've remained a transactional brand, they would've had less leverage in building those strong relationships [with those properties]."
As part of its sponsorship of the Toronto Raptors, the "#MyNorth" platform tapped into basketball stories from various GTA neighbourhoods. Featuring an immersive map, neighbourhood posters and mini-documentaries produced in partnership with TSN, "#MyNorth" garnered nearly 1,500 story submissions, nearly 8,500 social media mentions and about 38.1 million social media impressions. Sid Lee, Touché! and North Strategic also worked on the campaign.
Sport Chek ended its AOR relationship with Sid Lee earlier this year, and has worked with Rethink on more recent creative, such as its "What Are You Sweating For?" content, which includes spots that share people's individual stories of what they sweat for, while encouraging consumers to share their own stories under the #SweatForThis hashtag.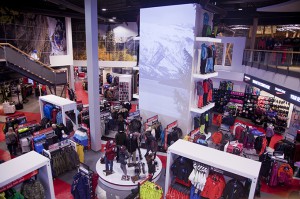 To support its evolution internally (the marketing team has grown from 35 in August of 2012 to 67 by the end of 2015), Sport Chek has brought folks who previously worked on flyers up to speed with digital. Rather than creating a separate digital division, everyone took ownership, Lecoq says. It was a big cultural shift, but today, 95% of the brand's digital assets are created internally. Resource reallocation also supported the shift (duties like email marketing, search and programmatic buying are full-time jobs, he notes).
Elsewhere in Sport Chek's digital journey has been the digitization of its assortment. Lecoq points to techy product offerings (items like the GoPro and Fitbit) and how the retailer is selling more than just a device and its features, but a solution. It's about the "total product offering," hardware, service, accessories and application, he says. For instance, the "First Tracks" program in January gave consumers who purchased $300 in ski equipment early access to ski hills ahead of the public and a one-day lift pass. It also partnered with the Burton, Rossignol, K2 and Ride brands on a social contest that offered a ski/snowboard adventure, which included the opportunity for the winner to make their own skis or board. And it tied into a video series with Olympic snowboarder Mark McMorris and skier Noah Bowman.
Lecoq also points to the "endless aisle" concept coming to the new Maple Leaf Square store in Toronto, where if a product a consumer wants isn't available (but in stock elsewhere), they can still buy it in store and have it shipped to their home. This notion of availability is being further brought to life at this location, which is slated to have a shoppable window that lets consumers make after-hour purchases.
That store broke new ground in other ways, with a live broadcast studio built with TSN (with whom Can Tire announced a media, content and digital partnership last year) to run live segments and interviews with athletes and sports industry folks. According to the brand, it's about moving from the notion of POS to a "point of experience."
This store and Sport Chek's other new, highly digitized locations (which it refers to as flagships) are the incarnation of Fulton's vision. Building off the opening of its Retail Lab in Toronto in 2013, Sport Chek's West Edmonton Mall flagship was unveiled as an interactive and techy environment with 470 screens, NFC-enabled units, tablets, a 40-foot monolith wall, interactive installations and custom brand shops. Sales have surpassed that of the mall's former Sport Chek and FGL-owned Atmosphere location by more than 45%, with average transactions totalling 28% more than the retailer's national average. Another flagship launched in Burnaby, B.C., while two more in the GTA are slated to open this fall (in addition to the Maple Leaf Square store).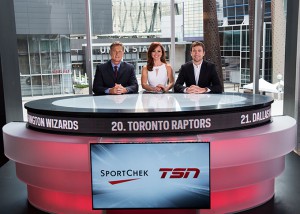 Despite this convergence of physical and digital, Lecoq admits the retailer still struggles to bridge online and offline consumer behaviour to paint a unified view – a challenge many retailers face. For its part, Sport Chek has been connecting the dots with its data through channels like its website, email vertical (making a big investment, along with programmatic and retargeting) and partnership with Scotiabank's reward platform, Scene (members can earn and redeem points at Sport Chek).

But looking ahead, Lecoq shares a vision for its own loyalty program, aiming to build a system based on behaviour (like exercise), rather than transactions, in addition to focusing on things like personalization and community engagement.

And overall for the brand, it's about continuing to invest in the consumer experience.

"That's what it's all about at the end of the day," Lecoq says. "You just need to reinvent yourself all the time."