What's in store for Cadillac Fairview
Former Xbox marketer Jason Anderson plans to make the mall property owner a household name.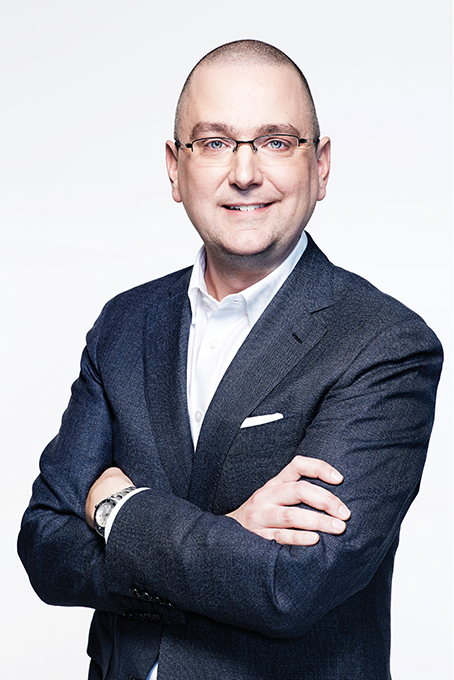 This story appears in the October 2015 issue of strategy.
The name Cadillac Fairview is probably not all that familiar to many Canadians, aside from its similarity to a certain car brand.
We do know the malls – Toronto Eaton Centre, Chinook Centre, Sherway Gardens, Rideau Centre, just to name a few – but most of us are less familiar with the company that owns them.
But given the country's competitive retail space, where big brands like Target have failed, and Canadian mid-level retailers like Jacob and Smart Set are closing their doors, it's become time for Cadillac Fairview to make its own brand known.
Enter Jason Anderson, a marketer with over a decade of experience at Microsoft, who has spent the past year-and-a-half forging a new brand for the property management co as its first-ever SVP of marketing.
Since joining the company in January 2014, Anderson has been laying the foundation for a new strategy to position Cadillac Fairview's properties – recently rebranded under a new "CF" parent banner – as the places to go for a premium shopping experience.
"We're a company that actually has quite low brand awareness," Anderson says. "Right now, we are effectively 20 different malls in the mind of the consumer."
Part of creating a centralized brand has meant restructuring from separate shopping centre marketing teams to a consolidated group of about 55 marketers across Canada, with about 25 in the company's downtown Toronto headquarters.
It's also meant shifting from more than 60 agencies to fewer than 10 – mainly Traffik, SapientNitro for digital, North Strategic for PR and social media, Bleublancrouge in the French market and Famous Folks for B2B and client marketing.
"We unified the team in the same way that we're unifying the brand," Anderson says, adding that fewer agencies has allowed the company to spend its marketing dollars more efficiently. (Since he's come on board, marketing spend overall has grown.)
He's been up to the challenge since leaving Microsoft, where he helped take the Xbox brand from the country's number three game console to number one as director of marketing. He also led Xbox One's Canadian launch in 2013, and helped forge Microsoft's retail partnership with Best Buy Canada to help market the Windows brand.
While going from videogames and tech to shopping malls might seem like a stretch, one of Anderson's goals at Xbox was crafting a premium experience against cheaper or free gaming offerings – a similar goal to Cadillac Fairview, which is attempting to position itself as a premium shopping destination.
"When you start with the consumer and figure out the kind of story you want to tell, then it's really easy," he says. "We believe that we have an opportunity to be more than just a landlord to our retail clients."
Currently, Cadillac Fairview operates in an environment where its competitors have been upping their luxury retail game. For instance, Oxford Properties' Yorkdale Shopping Centre has been adding a slew of designer boutique stores, such as Jimmy Choo and Versace, and fellow Greater Toronto Area and Oxford-owned centre Square One will open new La Maison Simons and Holt Renfrew stores. (Yorkdale's renovated Holts opened last year.)
But operating in a challenging space is part of what drew Anderson to Cadillac Fairview to begin with.
"Ultimately, I felt like I wanted the next chapter of my career to be at a Canadian company so that I could be closer to decision-making," he says. While VP of retail sales and marketing at Microsoft, he was five or six levels from the CEO, he notes. Now, he has regular direct contact with Cadillac Fairview's top boss.
"What I wanted was a company that was facing significant challenges but meeting them head on," he says of his move. "The way that this company is approaching the future in light of some of the uncertainty sets them up really well for success."
It's not that Cadillac Fairview's own properties aren't doing well relative to the rest of the Canadian retail landscape. While the average sales per square foot is $627 among Canadian shopping centres, the CF properties stand at $829, according to Anderson.
That higher-than-average performance has also occurred while several of the company's high-traffic properties – such as Toronto-area Sherway Gardens and Ottawa's Rideau Centre – have been under major renovation, he adds.
The new strategy has been to differentiate Cadillac Fairview and get Canadians to think of its properties as the places where they want to spend their time.
Anderson describes Cadillac Fairview as a "quiet giant" in how it's going up against a challenging retail environment, noting its $650- million purchase of the Hudson's Bay flagship store in downtown Toronto last year, along with its other major redevelopment investments.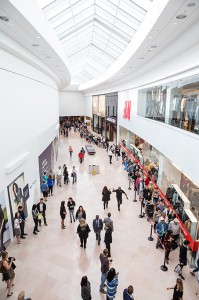 "Over the last 15, 20 years, what's really made the company successful is having the best properties in the best locations and the best mix of retail clients," he says.

"The company took the position about 10 years ago that e-commerce wasn't going to kill all shopping centres, it was just going to kill the weak ones," he adds. At that time, it strategically shrunk from 40 shopping centres to 20.

Now, it has $2.5 billion in retail redevelopments on the go, part of an overall plan that includes luxury retailers like Nordstrom and Saks Fifth Avenue joining its properties.

"It starts with a beautiful building in a great location," he says.

Five of the six Nordstrom locations in Canada will be at CF properties, he notes. The company's Toronto Eaton Centre and Sherway Gardens (pictured, left) will also gain Saks Fifth Avenue locations next year. "The entrance of Nordstrom and Saks will be the underpinning to a real renaissance of the luxury market in this country," he says.

Among Cadillac Fairview's changes has been a new look for its logo, which hasn't been updated since 1974, when the Cadillac Development Corp. and Fairview Corp. merged. With the old logo, most consumers couldn't even tell that it was a "C" and an "F," Anderson says.

Working with Toronto agency Traffik, the updated look and feel tested well with 1,000 consumers across the county, in both languages.

The new CF name – less wordy than "Cadillac Fairview" and moving away from the car connotation – and logo were first added to Sherway Gardens in September and are currently rolling out to the company's malls across Canada.

Despite a more unified brand, boiling down the consumer target to a granular level, and understanding which retailers will be exciting to which regions, is also critical, Anderson adds.

"At the end of the day, the discipline that comes with strategic marketing is the same," he says of moving from Microsoft to Cadillac Fairview. "The shopping centre industry traditionally has not had that kind of discipline as it relates to marketing."

Anderson's role at Cadillac Fairview has been about getting the basics right.

"Every piece of research we do shows how important the fundamentals are in experience," he says. Things like improving parking, customer service staff and even clean bathrooms have all been central to Cadillac Fairview's redevelopments.

The past year-and-a-half has also been about getting the fundamentals right for digital, he says. After consolidating agency partners, marketing budget has shifted toward investing in digital in an attempt to increase both traffic and dwell time.

For example, having the shopping centres' websites be optimized for mobile devices – and all under the new CF banner – was key, he says.

At the end of 2014, the company also worked with SapientNitro to launch its "CF Shop!" mobile app. "The app is a great example of a tactic that makes way more sense once you have a brand strategy of uniting your 20 shopping centres across the country," Anderson says.

It has also taken a new approach to social media, again consolidating resources. Now, the company has five dedicated social media community specialists who are 100% focused on social, a shift from a more segmented approach, he says.

This past summer, for example, the company created a more consistent marketing approach when it launched its "#WhoWillYouBe" back-to-school campaign, centred on the insight that students see September as a "New Year" and time for reinvention.

Now, as Anderson gears up to enter his second year at the company, he will continue to lead its quiet reinvention – one that will see new store openings and redevelopment visions come to life. "The company is in this for the long haul."