Maverick Maker of the Year: Etsy goes offline
How real-world experiences have become a cornerstone of the online marketplace's strategy.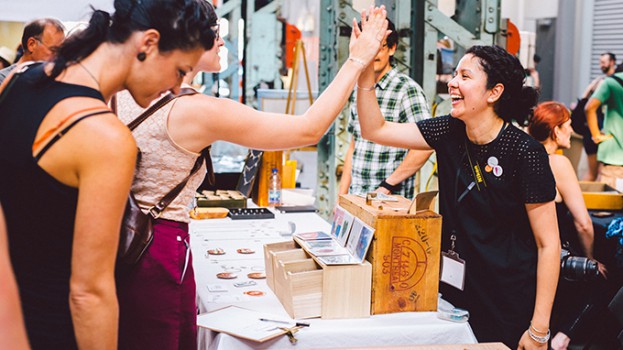 We've already rolled out our 2015 Brands of the Year, taking a look at the brands that had a big impact on Canada this year. Now, check out the up-and-comers who we predict will shake up the country in the years to come. Be sure to check out our earlier looks at Desjardins, Epic Meal Time, Smoke's  and Sport Chek, and keep an eye out for more trending brands from 2015.

This story appears in the October 2015 issue of strategy.

If you attended a market or festival this past summer, you might have encountered vendors selling handmade or vintage goods from the online marketplace, Etsy. Or you might have even checked out one of the brand's own pop-up events.

Developing offline experiences has been part of the recent strategy for the brand in Canada, which, despite its 1.5 million active sellers and 21.7 million buyers globally, is still looking to develop brand awareness, as well as venture beyond its standard female (aged 25 to 44) demo.

This September marked the brand's second Made in Canada event, which featured a pop-up market of local sellers in 33 cities across the country, expanding from last year's 21. The goal for Etsy (which overall saw $1.93 billion in gross merchandise sales last year) is for attendees to visit the site or open an account once they return home, says Jennifer Knox, PR and communications manager, Etsy Canada.

But what Knox believes to be unique to the Canadian market is the brand's strategy of piggybacking on existing marketplaces or events, such as the Calgary Stampede, music and arts festival WayHome and Vancouver's West 4th Ave Khatsahlano Street Party.

And it deepened its community connection with its Etsy Maker Cities pilot this past summer, where it promoted the maker movement in four cities with free or low-cost programming like online photography and shipping workshops.

Etsy (whose Canadian team has seven staffers and two interns) has also found a more permanent way to get on physical shelves, namely through its partnership with Indigo, which began in 2014.

"We're trying to grow wholesale in Canada, as well as grow the Etsy brand to those consumers who many not be as comfortable in the online world," Knox says.

Etsy has also partnered with brands such as David's Tea, MEC, Kleinfeld and Frank & Oak, the latter giving it a chance to reach a male demo, offering products from Etsy sellers on a Frank & Oak microsite around the holidays.

The brand also recently set its sights on Quebec, its least penetrated market in the country. So it partnered with French-speaking PR shop Casacom, Quebec celeb Marie-Soleil Michon and Chatelaine, and rolled out its Etsy Design Awards – The Best of Quebec. People voted on their favourite sellers in six categories such as Jewellery and Home & Living, and the winners were featured in Chatelaine's July issue.