David's Tea wants noses in cups
The brand kicks off a cabin-themed tea-sampling tour in Toronto.
David's Tea is rolling into Toronto with an experiential tea tour beginning today through Saturday.
The branded truck has a cozy cabin theme to help Torontonians warm up while they sample the Montreal-based brand's products.
"As a brand, we're always looking to create custom tea experiences for our customers, whether it's in our stores or outside of the four walls of David's Tea," says Melanie Barbusci, director of customer engagement at David's Tea. "With Canadians, there's still a real opportunity to educate on loose leaf tea overall," she adds, noting that the brand has more than 150 varieties of tea.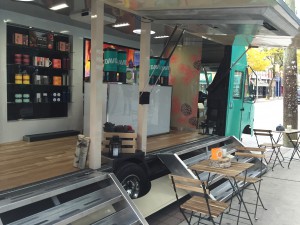 While the tour is about driving trial among new customers and engaging existing ones, it has a broad target, she says. Planned stops around the city will reach a variety of demographics, from downtown businesspeople to university students to families.

David's Tea's internal events team is handling the tour, with the branded truck by Toronto's Jam Van. In June, the brand used the teal truck for an iced tea tour in New York City, which had Canadian fans on social media asking for it to be brought north of the border. Last spring, it also had a branded "Teal Mobile" car in its signature colour cruise the streets of San Francisco. David's Tea, which went public in June, has locations in both those cities, as well as several others in the U.S. and is currently planning an aggressive expansion there.