Fibre of the community
To support Small Business Saturday, Zulu Alpha Kilo helps put a face to Canada's independent businesses.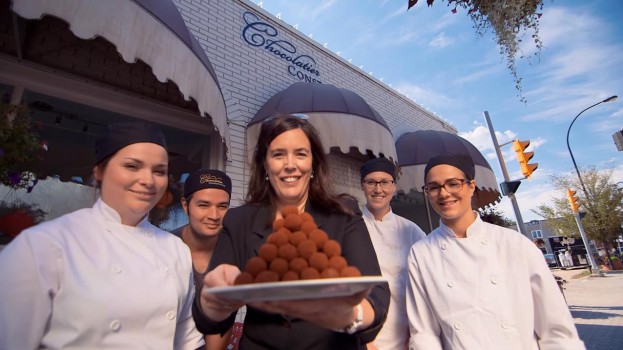 Canadian Federation of Independent Business (CFIB) is looking to show Canadians why supporting their local small businesses also supports their surrounding communities with a new campaign promoting Small Business Saturday.

The annual event, happening this year on Oct. 24, is part of the Shop Small Biz initiative by the CFIB and lead sponsor Interac, encouraging Canadians to shop at local independent businesses and to educate the public about the role small businesses play in the community.

A series of online videos to support the day were created by Zulubot, the year-old content division of Interac's AOR Zulu Alpha Kilo, which is itself a seven-year-old independent business. The videos tell the stories of four different small businesses across the country, from markets and sporting goods stores to farms and chocolatiers. The businesses in the videos are ones that received the most nominations during a contest the CFIB ran in June where Canadians could name their favourite small business.

This is the fourth year the CFIB and Interac have held Small Business Saturday, and in the past have relied on online ads, social and media partnerships to get the word out (media partners Postmedia and Newcap Radio are once again partnering with the association this year). The CFIB and Interac decided to add a video element this year as a way to put a face on small businesses, which are almost always unique to the communities they serve and part of its fibre.

"Everyone already knows their favourite bakery or store, but what we don't always think about is how important they are to their communities and how much they influence its culture," says Corinne Pohlmann, SVP of national affairs at CFIB. "That's the image we wanted to convey in the videos and as an organization. It's an issue where you don't have that many detractors, it's more about getting people on board by seeing what they can do to support this and what happens when they do."

Pohlmann says the other goal is to get the small businesses themselves to register as part of the organization's online national database of small, independent businesses that consumers can search to find ones in their own communities.

As lead sponsor, Interac has provided financial support and helped drive awareness for Small Business Saturday and the CFIB's initiatives. Caroline Hubberstey, head of external affairs at Interac, says her company supports the event and association because of the role it plays in helping the operations of small businesses (as a low-cost payment option).