The future of high-tech payment
Which payment methods are consumers ready to use more often?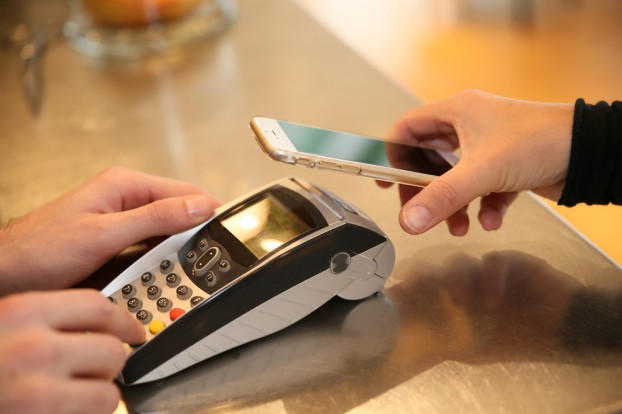 Digital and mobile payment methods can expect a slight increase in usage in the future, but there are also ways to stimulate consumer interest even more, a new survey suggests.
In the survey by Lightspeed Research, commissioned by tech consulting firm Accenture, 4,000 customers across the U.S. and Canada were asked about the methods they use to make payments today and how they expect to do so in five years.
The ways consumers currently pay remain largely unchanged from last year's survey: cash remains the most popular payment method, with 66% saying they use it regularly and 59% using debit. The only methods to see more than a single percentage point change were credit cards (with 50% using it regularly in 2015 compared to 55% in 2014), PayPal (16% in 2015 versus 14% in 2014) and digital currencies (10% in 2015 versus 8% in 2014).
But several new payment methods were added to the survey this year, with 14% of respondents saying they used retailers' mobile payment apps and 8% for Apple Pay and Google Wallet, each. A majority of consumers are now aware of the aforementioned mobile payment options, rising 9% from last year to hit 52%. That hasn't come with a significant increase in adoption, though, as only 18% of the population as a whole use them on a weekly basis (up only 1% from last year). Currently digital payments are driven by millennials (23% making some kind of mobile payment at least once a week) and those with higher incomes (38%).
Looking forward, fewer consumers expect to use cash, with 58% anticipating they will use it regularly in 2020, a drop of 8%. Debit use can expect a very slight dip (57% expect to use it in 2020, from 59% today) and credit cards will hold steady, possibly due to providers of both investing in ways to keep up with new payment tech.
Although consumers expect to be using more newer digital payment methods, it is a slight increase across the board. Digital payment apps are expected to rise by 8% and PayPal by 6% to each reach 22% by 2020. Apple Pay is expected to see a 7% gain to reach 15%, with Google Wallet seeing a 5% gain to reach 13%. Consumers expect to use digital currency more often, with an anticipated rise of 5% to 15%.
While the most common forms of payment are simple transactions at QSRs, grocery and convenience stores, those are also categories where respondents are using mobile to pay less frequently. Parking, bills and taxis are lower overall, but also saw growth compared to last year (see chart).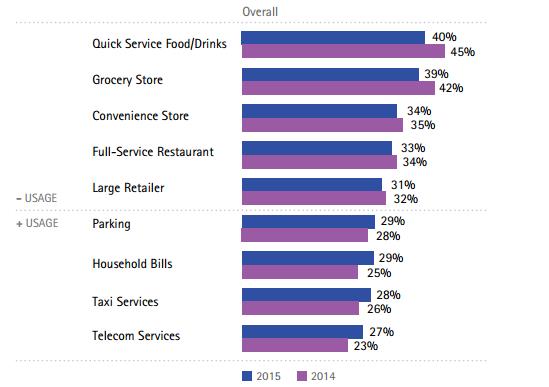 Rewards and discounts seem to be the most effective way to increase mobile payment. Being offered a discount based on using mobile as a payment device would make 54% of respondents more likely to do so, with 53% saying the same if they were offered rewards points. Improvement to the overall shopping experience was also enough of an incentive for 53% of respondents, with 49% saying they'd be interested in getting more information about the product by scanning it with their phone, 48% saying they'd be interested in access to VIP treatment (like a separate checkout lane) and 47% interested in being able to scan and purchase immediately in store, eliminating checkout altogether.

The survey was also able to identify two other areas of potential growth for new payment methods. Peer-to-peer payments, like e-transfers, had been used at least once by 46% of respondents, with 15% saying they do so at least once weekly. With 42% of people still making interpersonal payments with cheque, the report states there is room to make digital P2P payments more popular.

Also, 51% of respondents said they weren't interested at all in the prospect of taking advantage of the internet of things to make payments, with 30% saying they were neutral and 19% saying they were extremely interested. In terms of current usage, 21% of respondents used a wearable as a payment device at a merchant location, the same result as last year.

Feature image courtesy of Shutterstock