Female empowerment (finally) comes of age
Brands move from tear-jerker creative to sassier ads that celebrate ditching insecurities.
This story appears in the November 2015 issue of strategy.
Have you seen the U.S. Army Ranger class of 2015? They're lionized in images you've likely seen in the news before. Tired bodies cloaked in camo, hunched over from carrying gear and artillery. They're moving through fields and marsh, some carrying their comrades and all displaying 61 days worth of gruelling training on their face.
But look closer, and you'll see something remarkably different in one of this year's graduating classes. Among the 94 (out of an initial 381) male soldiers is Captain Kristen Griest and Lieutenant Shaye Haver — they're the first two female soldiers to graduate from the army's Ranger School, one of the toughest combat leadership courses in the world.
A similar image recently came up in a U.S. commercial for Dodge and its Ram truck, created by Dallas-based The Richards Group. In the "Courage is Already Inside" spot, a woman is shown running side-by-side with men who are kitted out in army attire. There are other women climbing mountains, tackling monstrous waves and taming wild animals. The brand is there too, and it's talking about how women are defying social conventions and that it wants to be right by their side as they do.
Advertisers like Dove and Always have focused on self-esteem, with emotional ads that present a profound human truth around how women view themselves, and then challenge the viewer to overcome it. But recently there has been a shift to creative that gives, shall we say, a collective middle finger to negative thoughts and societal barriers.
"Empowerment ads are really coming of age," says Diane Ridgway-Cross, EVP at Marketel McCann and Marketelle, a division of the Quebec agency set up to help brands speak to women. "Advertisers are really beginning to see that women have more emotional depth than the sappy tear-jerker ads that were being delivered."
This new evolution of female empowerment shows how women are taking a stand and shunning the notion that they're not good enough.
Take Special K, for example. The brand in Canada has finally shed its signature red dress, and weight management image, to speak to women in a more realistic and empowering way. The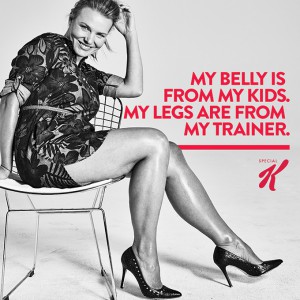 "Own It" platform, created with the help of Leo Burnett Toronto, features an anthemic spot that implores women to focus on changing the things they can, and not what they can't. The video, which tracked more than one million views online after only one month, opens with the fact that "97% of women have an 'I hate my body' moment. Every. Single. Day." The spot quickly cuts to real women who are perfectly imperfect and have had issues with self-doubt, with a narrator stating that they should rally together to celebrate "the good and the not so good, and proudly own it all."

The campaign speaks to the "new feminine" — a group of women (identified by the brand through its research) that would rather achieve their own goals to build a personal sense of self, than do things to meet society's expectations. She takes the "longer-term, overall health-oriented approach" over "quick-fix weight-loss fads to help get in shape," says Natasha Millar, senior marketing director, breakfast cereal and beverages at Kellogg. She doesn't calorie count or deprive herself of foods, and she doesn't exercise to lose weight, she adds.

There's also Hyba, a new line of activewear from Reitmans that entered the market with an equally empowering campaign, which is also based on an insecurity (that women don't find fun in moving their bodies or being athletic for fear of being judged), but quickly rallies them to ditch the doubt. The "Movewear Movement" spot, by Marketelle, features real women unashamedly moving their bodies however they please, because they can.

In the U.S., Under Armour and agency Droga5 spoke to women "who do not wait for permission, advice or affirmation from others in order to go after what they want," writes the team behind the "I Will What I Want" campaign on the agency's blog. Nike's "Better For It" global campaign again pushes women to do their best, with spots showing how they're able to banish negative "Inner Thoughts" that prevent them from finishing a race or yoga pose.

Today's younger female cohort is more empowered than any other generation before them: they possess a "do anything, be anything" attitude that they've grown up with, says Ridgway-Cross. "[But] there are still those societal things that we're wired with and that eat at us sometimes. It's that tension space where [brands and agencies] can create some pretty provocative work that gets people talking."

"There's an evolution of how women see themselves. Now we're getting to millennials (and even their younger siblings) and they're already empowered and they know they can do anything, which is what I think this work is tapping into."

She predicts the creative floodgates will not only stay open, but get wider, as more brands outside the obvious female-friendly categories find their own way to talk about empowerment (such as the aforementioned Dodge Ram campaign).

"Virtually every brand director with a product that appeals to women wants an empowerment campaign," says Ridgway-Cross. And she doesn't blame them: "It's the kind of work that gets talked about, shared and loved by women."

"When I look at the current trend, I definitely see it snowballing," she says. "[Because] we're seeing more female creative teams, female clients and more brands wanting to go after the female target. We've seen campaigns that have set the bar high, the question now is, 'Where do we go to make it that much higher?'"