Campbell takes soup into the new age
In its 85th year, the CPG co is rolling out new products and targeting a younger crowd, but will millennials warm to it?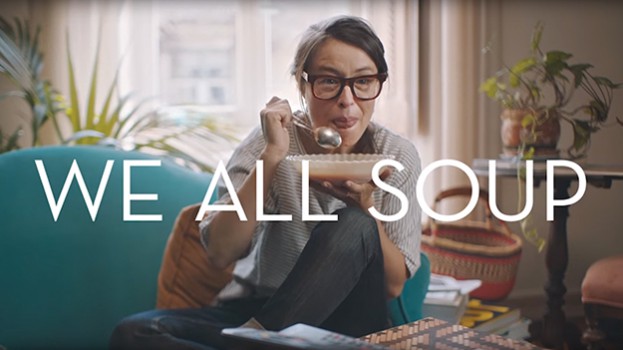 This story appears in the November 2015 issue of strategy.
By Erik Heinrich
It's a gorgeous fall day that feels more like summer, but without the humidity that normally hangs in the southern Ontario air like a wet towel in a Turkish hammam. Moya Brown, VP marketing at Campbell Company of Canada, is on the phone from a corporate retreat in Guelph, ON, just days before the launch of a campaign that could usher the brand into a new era.
"I'm thrilled about the new direction," says Brown, who has been with the Toronto-based food and beverage giant since 2002.
"We're at a point in time in the food industry where the Canadian consumer is so aware and engaged. Expectations are high and that's a great thing. It requires companies like ours to listen and meet needs in a different way."
Doing things differently means that for the first time ever the emphasis of Campbell's new marketing campaign in this country will be on millennials.
The 18-to-34 demo is about as tough to decipher as Egyptian hieroglyphs, but Campbell Canada, a wholly-owned subsidiary of New Jersey-based multinational Campbell Soup Co. with annual revenue of US$7.7 billion and operations in 120 countries, will need to find a way to read them like an X-ray machine or risk becoming irrelevant.
That's because the company, which celebrates its 85th anniversary in Canada this year, is facing a fundamental shift in North American eating habits that has eroded its condensed soups' sales. Probably the single biggest challenge for Campbell's is that people are eating healthier than ever and emphasizing fresh and organic ingredients in their diet.
Mass produced food suffers from the fact that it often contains additives, preservatives and sodium. Campbell Canada began to address this problem head-on in 2008 by rolling out TV spots featuring an actual employee (named Hilton) who had concerns about the amount of sodium in Campbell's soups. These spots emphasized the fact that Campbell's was reducing the amount of salt in its products, while it also introduced healthier options like soups with brown rice and Omega 3.
Now they're going after the younger generation, which may seem daunting for an older, established brand, but Brown is confident that the smarts behind her latest marketing blitz – launched under the banner "We All Soup"– will be an important first step to winning the hearts and wallets of millennials. "We want to make sure we're talking to them in a relevant way," says Brown, "and providing the transparency they demand."
"Lots of things make us feel pulled apart," she adds. "People want to be recognized as individuals with a shared sense of belonging." The TV and video spots, ranging in length from five to 30 seconds, make the point that people all over the world have different eating habits, but soup is still a common denominator that brings everyone together.
Campbell's new agency Taxi is leading the campaign (the company previously worked with BBDO). Gravity is handling social media, following its recent "#TheMotherhood" campaign for Campbell's (which features three women in videos talking about the people who "help them mom"). OMD is the media agency.
Campbell is a lot more than soup – a category in which it sells more than 100 flavours. The company also has large snack and beverage divisions led by the Pepperidge Farm and V8 brands respectively. It doesn't divulge Canadian market share data for all its products and segments. Nevertheless, soup has always been the company's most important revenue and profit engine and is the focus of "We All Soup," a made-in-Canada, for Canada, marketing initiative.
So will its new approach make millennials sit up and take notice, and more importantly make them feel that Campbell's is not their parents' or grandparents' soup?
To reach that crowd, Campbell Canada plans to harness TV, digital, social media and in-store promotions with roughly equal weight. The new creative will be showcased using targeted ad posts on Facebook, Instagram and Twitter, as well as with a programmatic buy and pre-roll.
One aspect of its digital campaign is a web portal and Facebook page that went live at the end of October. It allows consumers to interact with the company and its brands by asking questions about ingredients used in Campbell's soup.
That's an important part of the equation because the new generation demands transparency and want to know what they're eating is healthy. Campbell has taken steps in recent years to improve the ingredients and health profile of its products, such as the aforementioned sodium reduction. Also in Canada, there are no artificial flavours or colours in Campbell's soups. Wherever else they exist, Campbell promises to phase them out by 2018.
Campbell Canada's marketing team, a group of 30 people led by Brown, has a major competitive hurdle it needs to overcome with "We All Soup." The company wants to find a way to make itself relevant to a growing movement away from prepared and processed soups to natural homemade chowders and Asian specialties such as Thai tom yum and Japanese ramen.
An anchor product for the campaign is a new line of homemade soup kits launched in August. This is a radical departure for Campbell's because these kits contain only dry vegetables and spices that flavour a soup. The consumer needs to buy the broth and fresh ingredients such as beef and chicken to complete the meal. "Homemade soup kits are the jewel of the campaign," says Brown.
Campbell's already purveys a number of carton broths targeting younger users and ethnic groups, but it's hoping the addition of soup kits – which contain the ingredients needed to make old standbys like beef and barley soup alongside new Thai and Mexican flavours – will be a home run, particularly with consumers who make their own broths.
Is it realistic to expect people to turn to Campbell's spices over those found in specialty shops, and increasingly in the ethnic aisles of chain retailers like Loblaws and Sobeys? The short answer is maybe, because part of Campbell's success has always been predicated on offering shortcuts in the kitchen. It's betting it can still offer that with healthier and more creative products that appeal to a more educated and international palette.
The other anchor product is Campbell's Healthy Request, preservative-free soups mainly targeting a 40-plus demographic. This line of soups was relaunched and refreshed this year after 10 years on the market.
"Consumer education and habits are changing, but Campell's and companies of the like all have a great opportunity to evolve, invent, segment and position their products to fit the changing needs," says consumer products expert Rob Linden at Toronto's SampleSource, an online distributor of product samples. "Many of the new SKUs from Campbell's, for example those positioned around ethnic tastes and needs, or those with lower salt, are fantastic starts."
Back at Campbell's headquarters on Birmingham St. in the west end of Toronto, Brown is ruminating over what she has learned after nearly two decades of marketing packaged goods, including a five-year stint at P&G. "Always listen to what the consumer has to say," says Brown, who grew up on Campbell's soups. "But at the same time trust your gut."
Brown knows that comes off as contradictory, but she's unapologetic. "That's what makes marketing more art than science," she explains. "But when it comes to food, taste comes first, you can't compromise that."
These days you also can't compromise the messaging around food if, like Campbell's, you want to remain a household name. Brown is not a millennial, but can she speak to them? She's about to find out.
Key Campbell moments: