Groupe Police launches in Quebec
The new "active holding" provides mentorship and resources to ad and marketing entrepreneurs.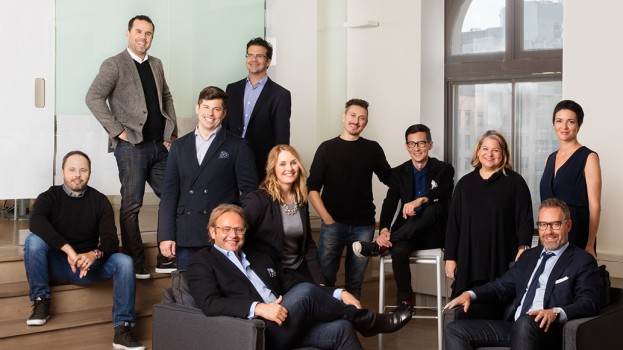 A new agency organization dubbed Groupe Police has launched, aimed at helping entrepreneurs and independent agencies thrive in Quebec's advertising industry, led by Sebastien Fauré, CEO of Bleublancrouge and co-founder of L'Institut Idée, and Jean-Sébastien Monty, president of Bleublancrouge and U92.

Groupe Police will provide centralized administrative services for advertising and marketing entrepreneurs in Quebec, from invoicing to receivables to projections to budgets, as well as mentorship from other entrepreneurs to help them grow their business while protecting their independent spirit.

"A lot of times, great designers and communicators and developers will start a business because they've got the energy and passion, but getting past a certain threshold can be difficult," Monty says. "They don't get excited about administration, which often holds them back. And having recurring coaching on a regular basis from people who have already gone through starting their own business in this industry definitely helps."

At launch, the new group is comprised of Bleublancrouge, digital agency U92 and strategic think tank L'Institut Idée (a joint venture between Bleublancrouge, Wunderkind and Scientific Intelligence). At the outset, the leadership is comprised of 11 partners from the ranks of its member agencies.

Monty says Groupe Police is looking to grow and is currently in discussion with several agencies. Partner agencies, both at the outset and ones that will join in the future, are not being merged or brought into a new network, and will continue to operate independently. Monty describes Groupe Police's structure more like an active holding because, even though Groupe will be looking to take equity in its member agencies in many cases, it is not planning to become a majority owner or to replace any pre-existing leadership. That way, he says, the businesses will maintain their "drive and entrepreneurialism."

"It's not a traditional holding in that we're acquiring companies for their revenues and their profits," Monty says. "It's not there to create something and then sell it in three years. Sebastien and I have gotten offers to get bought, and that's not the idea. It's how do you make sure people don't lose that sense of doing better and being better by building their own thing."

Monty adds that an organization like Groupe Police is especially important in a time when many of the agencies thriving in Quebec are either part of national and international networks, with ones that were previously independent getting bought out or merged.

"Having independents that are pushing the limits can be difficult in an environment when there's not as many entrepreneurs as there used to be," he says. "Especially in secondary markets, you need entrepreneurs to be at the helm of what they're doing. It makes for a much stronger industry when you've got people that are pushing because they've got skin in the game, which might not happen when an office is owned by networks that operate from Tokyo, Paris, London, New York and Toronto. There's nothing wrong with Toronto or running a subsidiary shop. There's great, talented people working there, but you've got to have the right mix, and this is about how do we make Montreal stronger and more robust and lively."

Groupe Police agencies will also have the ability to collaborate with each other and utilize each other's expertise, such as integrated advertising and design from Bleublancrouge, digital services from U92 or strategic planning from L'Institut Idée. That will allow each member to have access to other skill sets while still focusing on their own area of expertise.

"And that's if clients want it, we're not pushing anything on anyone," Monty adds. "It's for these partners to have added credibility, because they can go to clients and say something like, 'We kind of do digital, but we've got a partner that lives and breathes it.' We each become stronger by remaining what we truly are. We've been road-testing it for the last few months, which is what helped us see that this model can and does work."

Monty, who himself founded Montreal agency CloudRaker in 2000 before leaving for the president's role at U92 in 2013, joined Bleublancrouge as managing partner last year and was promoted to president in July. The two agencies began collaborating as Monty held positions at both, but remained independent of each other.

In the summer, L'Institut Idée partnered with DDB Canada and Palmer Rogers Encore Ventures (a joint effort between DDB Canada chairman and CEO Frank Palmer and financial executive CEO Mike Rogers) to provide access to business development opportunities with their respective client networks. The formation of Group Police will not impact L'Institut Idee's partnership with DDB.

Featured image: Groupe Police's founding partners, from left to right: Dave Gourde, VP of media at Bleublancrouge; Étienne Brunet, VP of operations and technology at U92; Simon Cazelais, VP of strategic development at Bleublancrouge; Sebastien Fauré, CEO of Bleublancrouge and co-founder of L'Institut Idée; Jean-Michel Ghoussoub, VP of client services at U92; Michelle Aboud, VP of account services at Bleublancrouge; Jonathan Rouxel, VP and CD at Bleublancrouge; Wahn Yoon, owner of Wunderkind and co-founder of L'Institut Idée; Penelope Fridman, principal at Scientific Intelligence and co-founder of L'Institut Idée; Jean-Sébastien Monty, president of Bleublancrouge and U92; and Élise Guillemette, VP of brand language services at Bleublancrouge.