LIAs award 30 trophies to Canada
JWT leads the pack, with a strong showing in Radio driving wins for the country overall.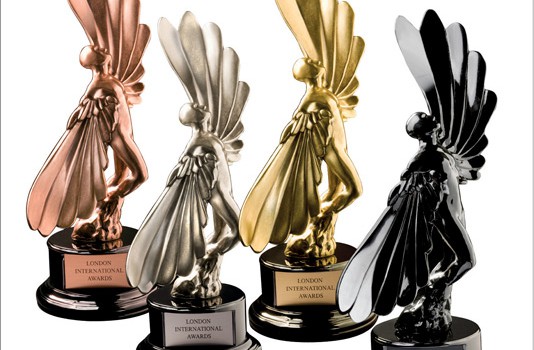 Canadian agencies won 30 statues at the London International Awards, driven by a particularly strong showing in the Radio category this year.

J. Walter Thompson Canada led Canadian agencies with eight wins, including a Gold in Radio for the "Cops" spot in its "Escape the Cliché" campaign for the Canadian Film Fest. The "Romcom" spot took home Silver, as did "Escape the Cliché" as a campaign.

The "Better Tomorrows" campaign for SickKids won Silver in Film for Public Service Campaign. A campaign promoting the Alzheimer Society of Toronto's "Music for Memory" project also earned JWT a Bronze in Design and a Bronze in Posters. And the "#RaiseThePride" campaign for Toronto PFLAG won two Bronze in Digital: one for Public Service and one for Innovative Use of Digital.

Juniper Park had a pair of Gold wins in Radio for its "#NotOkay" campaign for YWCA, with one going to the "Change the Tune" spot for Public Service and another going to "#NotOkay" for Public Service Campaign. The "Change the Tune" spot also won Silver in Radio Script Writing.

Leo Burnett Toronto took home two trophies, but made them count, winning Gold in Design for Brand Identity, and in Direct Marketing for its work rebranding House-Maison.

DDB's Vancouver office took home Gold in Branded Entertainment for its "Snack Time" series for Milk West, while its Toronto office won a pair of Bronzes in Film for its Volkswagen "Traffic Jam Assist" campaign. Tribal Worldwide also earned a Bronze in Production and one in Film for the "Dadhood" spot for Peanut Butter Cheerios.

Blue Hive Canada was the final Gold winner from Canada, winning in Radio Script Writing for its "Silent Letters" campaign for Ford Canada. The radio spot also won Silver in Automotive and Bronze in Radio Campaign.

Though it didn't win any Gold, Rethink did manage to pull in an impressive five trophies. It won Silver in Radio for its "Fall Off" spot in its "The Pledge" campaign for the Canadian Men's Health Foundation. It's "Uber Safe" anti-drunk driving activation for the ride sharing app took home Bronze in Non-Traditional Direct Marketing and Digital Design. The agency also took home a Bronze in Radio for it's "Grunt" spot for Science World and a Bronze in Design for its "Caseys" self-promotion spot.

BBDO Toronto won Silver in Film for "Struck by a Rainbow" for Skittles and Bronze in Film for the "Price of Progress" spot for Prince Edward County. Vancouver marketing consultancy Brandever won Bronze in Package Design for winery Church & State, and Pirate Group won Silver in Radio Sound Design for the "Elephant" spot in its "Be Heard" self-promo campaign.

Overall, 12 of Canada's 30 LIAs were given in the Radio & Audio category. Six came in Film, with five in Design.

The LIAs, which pride themselves on avoiding things like block voting and pressure on judges to vote for their own network, received 14,106 submissions this year, with only 7% being shortlisted, 1.2% winning Gold, 1.6% winning Silver and 2% winning Bronze.