Airbnb makes itself at home at the ACC
The site and venue team up for an overnight ultimate sports experience contest.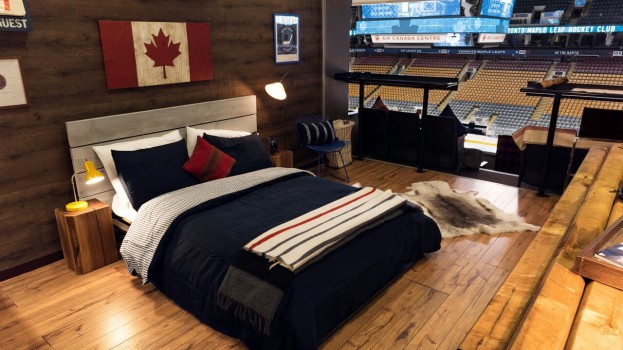 There are some pretty nice digs to be found on Airbnb, but how about a night at the Air Canada Centre?

The accommodation site has partnered with Maple Leaf Sports and Entertainment and hockey legend Doug Gilmour to put the venue up as a listing on Airbnb as part of a contest touting the ultimate sports weekend experience.

In the contest launching today and going until Dec. 15, users can look up the ACC listing on Airbnb and enter the contest by explaining why they're the biggest Toronto Maple Leafs and Raptors fan and what the overnight experience would mean to them.

The winner and a guest will win an experience including back-to-back NHL games, a sleepover in a customized private suite overlooking the rink and a Raptors game the following day (over the Jan. 23-24, 2016 weekend). The whole experience will be hosted by Gilmour.

Other parts of the experience include a behind-the-scenes tour of the ACC, including players' amenities, watching the pre-game skate, attending the post-game press conference with Leafs' head coach Mike Babcock and a shopping spree at Real Sports Apparel.

The contest, being promoted through social media, is part of Airbnb's "Night At" program, where it transforms iconic landmarks and venues into "homes" for a night. This is the first execution in Canada and also the first involving two professional sports leagues (the NHL and NBA).

Airbnb is working with North Strategic for PR.